I came across an interesting article in The Economist magazine recently that discussed about the biggest employers in the world. When the economy is sluggish private sector is unable to create jobs due to the lack of demand for goods and services. For example, despite having over a Trillion dollar in cash, U.S. companies have been reluctant to invest capital and hire workers in the U.S. However it must be noted that the same companies have hired millions in other countries where labor costs are cheaper. With no or few jobs created in the private sector, trimming of public sector workers by governments adds more unemployment in the short-term but helps in the long-run.
The following graphic shows the world's biggest ten employers:
Click to enlarge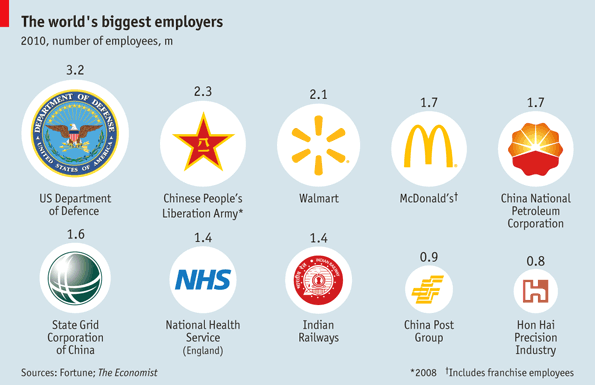 Source: The Economist
From the article:
In our chart of the ten biggest global employers, below, seven are government-run. America's defence department had 3.2m people on its payroll last year, equivalent to 1% of the country's population. China, the world's most populous nation and a big military spender, employs 2.3m people in its armed forces. And the number of people working for the National Health Service in England is equivalent to over 2.5% of the country's population. The three private companies are Walmart, McDonald's and Taiwan's Hon Hai Precision Industry Company, a subsidiary of which is Foxconn, a secretive electronics manufacturer.
The above chart is a little misleading since it includes military in the comparison. An ideal way to identify the top employers would be to create a separate list for the public and private sectors. The U.S. Department of Defense employing 3.2 million is not a surprise since the U.S. is the sole superpower and a large part of the economy is dependent on the military. Other than China's Army, the three state-owned Chinese firms shown above may not be as efficient as firms in the private sector. Similarly UK's NHS  and India's Indian Railways suffer from atrocious inefficiency as well. The situation with the bloated public sector in UK is changing now as the Cameron government implements long-awaited reforms. Taiwan's Foxconn is the world's largest contract electronics manufacturer for many of the global hi-tech firms such as Apple(AAPL), Dell (DELL), etc. Foxconn employs thousands of workers in China to take advantage of the low labor costs there.
Disclosure: No Positions