Asian equity markets have established a reputation for growth. However investors often overlook the fact that Asian equities yield high incomes also in addition to capital gains and hence generate solid total-returns. The traditional thinking that growth markets cannot sustain attractive dividend yields is no longer true. In fact, emerging market companies are starting to pay or increasing dividends in order to attract foreign and domestic capital.
Some of the reasons in favor of investing for income in Asia are discussed below:
1. Investors should not consider investing in Asia solely for growth. Asian stocks currently yield more income than the global average and significantly more than their US counterparts as shown in the chart below: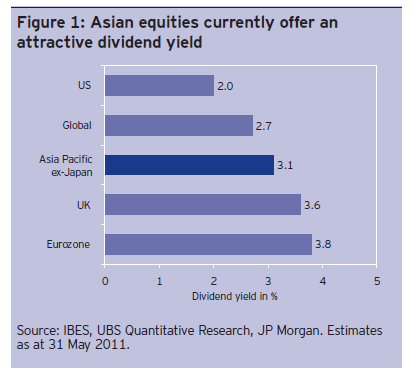 2. The average payout ratio of companies within the Asia Pacific (ex-Japan) universe has hovered around a sustainable 40-50% in the last decade.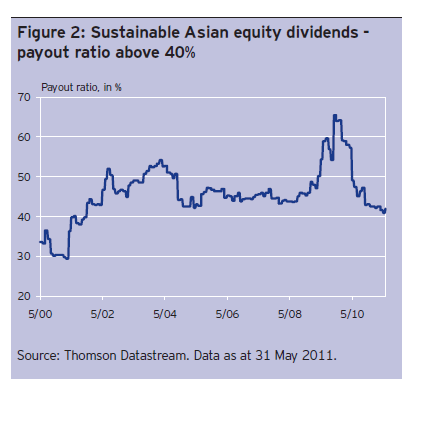 3. Dividend yields are high in mature economies such as Australia and Taiwan, but they are slowly improving in emerging countries such as India and China.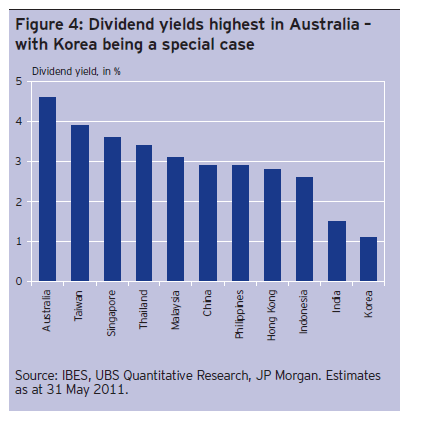 From the Invesco report:
According to CLSA Asia-Pacific Markets (CLSA), 87% of companies in the Asia-Pacific ex-Japan universe will pay dividends this year – up from 60% at the start of the decade. This group of companies is expected to distribute USD 147 billion worth of dividends, with 23 companies expected to pay more than USD 1 billion each, and another 38 to pay more than USD 500 million, accounting for an additional USD 25 billion. By comparison, five companies are expected to account for 40% of all dividend payments in the UK.
Source: Risk & Reward, Asian Equity Income – a total-return strategy, Invesco Perptual, UK
Ten Asian stocks trading on the US markets are listed below with their current dividend yields for review:
1.Company: Taiwan Semiconductor Manufacturing Co Ltd (TSM)
Current Dividend Yield: 4.18%
Sector:Semiconductors
Country: Taiwan
2.Company: Chunghwa Telecom Co Ltd (CHT)
Current Dividend Yield: 5.58%
Sector: Telecom
Country: Taiwan
3.Company: Philippine Long Distance Telephone Co (PHI)
Current Dividend Yield: 6.78%
Sector: Telecom
Country: Philippines
4.Company: Huaneng Power International Inc (HNP)
Current Dividend Yield: 6.81%
Sector:Electric Utilities
Country: China
5.Company: Telekomunikasi Indonesia Tbk PT (TLK)
Current Dividend Yield: 4.47%
Sector: Telecom
Country: Indonesia
6.Company: China Yuchai International Ltd (CYD)
Current Dividend Yield: 3.14%
Sector:Capital Goods
Country: Singapore
7.Company: City Telecom (HK) Ltd (CTEL)
Current Dividend Yield: 7.54%
Sector: Telecom
Country: Hong Kong
8.Company: China Mobile Ltd (CHL)
Current Dividend Yield: 3.98%
Sector: Telecom
Country: Country: Hong Kong
9.Company: United Overseas Bank Ltd (UOVEY)
Current Dividend Yield: 4.44%
Sector: Banking
Country: Singapore
10.Company: PetroChina Co Ltd (PTR)
Current Dividend Yield: 4.13%
Sector: Oil and Gas operations
Country: China
Note: Dividend yields noted are as of September 16, 2011
Disclosure: No Positions
Update:
Bloomberg: Record Dividends Lure Morgan Stanley to Asia