The pharmaceutical industry used be a highly profitable industry and pharma stocks were long considered as conservative investments that offered slow, steady growth with attractive yields. However that has changed in the past couple of decades. Though profit margins for blockbuster drugs are high, drug companies' earnings are under enormous pressure due to many factors including regulatory issues, high R&D expenses, length of time for FDA approvals, legal costs, etc. Despite these issues, stocks of some pharma companies are good long-term investment opportunities. For example, companies that have high exposure to emerging markets offer potential for growth as the demand for drugs grows in those countries. For example the Danish drug maker Novo Nordisk(NVO) is a world leader in diabetes care. With diabetes becoming more prevalent in emerging countries such as China, Novo Nordisk can tap this huge growing market. According to one estimate, the number of Chinese having Type 2 diabetes may reach 80 million over the next 15 years. As of this year, China is the third biggest market for Novo Nordisk and the second largest insulin market.
The chart below lists the World's 50 Largest Pharma Companies for 2010 by sales of prescription drugs:
Click to enlarge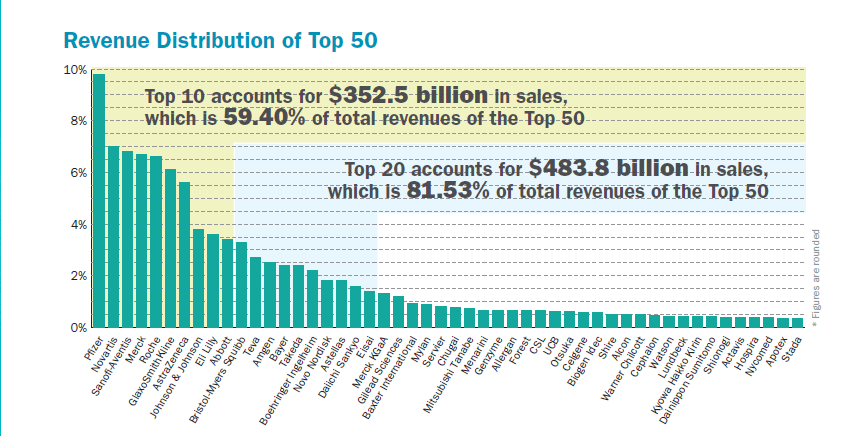 Source: Pharm Exec
Some interesting stats from the report discussing the rankings:
The top 50 companies accounted for $593.4 billion of prescription drug sales in 2010.
Swiss-drug maker Novartis(NVS) moved to the second place beating Sanofi-Aventis (SNY) and Merck (MRK) jumped from 7th to 4th place.
Fueled by the acquisition of Wyeth,  Pfizer(PFE) grew its prescription drugs revenue from $45.4 billion to $58.4 billion.
For the first time, all the 50 companies in the above list have sales of at least $2 billion.
Similar to Pfizer, Merck(with the acquisition of Schering Plough) and Abbot (with the acquisition of Piramal and Solvay) also increased their annual revenues substantially in 2010.
Irish drug maker Warner Chilcott raised its drug revenues by a whopping 111% due to its acquisition of the drug business of P&G.
Many of these drug firms stand to profit when 30 million previously uninsured Americans obtain heatlh insurance coverage as a result of the healthcare reform.
Half of the top 10 drug firms shown in the rankings above are based in Europe.
North America alone accounted for 42% of global pharma sales.
The top five drugs by global sales are Lipitor, Nexium, Plavix, Advair Diskus and Abilify.
Israel-based Teva Pharmacetuicals (TEVA) took the 12th rank with 2010 sales of $16.1 billion (16.0% higher than 2009 sales). Teva spent $933 million last year in R&D.
To download the full Pharma Exec Top 50 report in pdf format click here.
You may also like to check out:
The Top 25 Global Pharmaceutical Companies by 2011 Sales
Chart: Top 50 Global Drug Companies by Sales in 2011
Disclosure: No positions