Telecom stocks offer some of the best value picks in Europe currently according to an article byDavid Stevenson in MoneyWeek.
From the article:
Why? For starters, the estimated dividend yield paid out by the Bloomberg European Telecoms index has now topped 7.5%. For just about anywhere in Europe, that's well above the rate of inflation.

In fact, as Neil Hume recently pointed out in the Financial Times, the gap between the European telecoms sector yield and that of the wider market is at an all-time high. Bloomberg data shows this to be almost 4% a year, as the blue line on the chart below illustrates. So you're getting paid more than ever before to hold telecoms stocks compared with the rest.

Meanwhile, as investors have piled into commodity and cyclical stocks in the last two and a half years, European telecoms have lagged badly behind.

The red line below indicates the sector's relative performance compared with the wider market. And since the March 2009 lows, this has slumped by around 25%. As a result, telecoms have now undershot the overall index by some 10% since 2003. But in ever more uncertain economic times, they're likely to catch up again.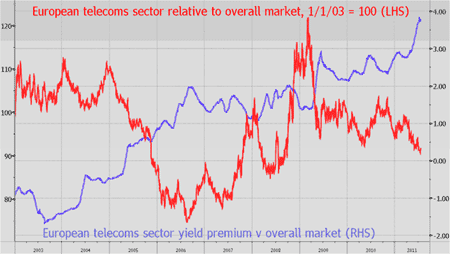 "European telecoms have joined a rare club – a sector dividend yield that's twice the overall market", say Jonathan Stubbs and Adrian Cattley at Citigroup. "Few sectors have been here before in the past 30 years. History suggests decent absolute and relative 12-month gains for investors who buy sectors at such points."

Indeed, whenever a European sector yield has climbed as high as 7%, says the Citigroup team, the average 12-month total returns that buyers have achieved since 1980 has been more than 30%.

What's more, "seasonality joins valuation as a key cheerleader for European telecoms. Since 1995, in relative performance terms, European telecoms have had a poor first half and a good second half. The sector has underperformed this year to date: we would buy into weakness."
Twelve European telecoms trading on the US markets are listed below with their current dividend yields:
1.Company: Telenor ASA (TELNY)
Current Dividend Yield: 4.31%
Country: Norway
2.Company: Deutsche Telekom AG (DTEGY)
Current Dividend Yield: 6.55%
Country: Germany
3.Company:  France Telecom (FTE)
Current Dividend Yield: 9.23%
Country: France
4.Company: Hellenic Telecommunications Organization SA (HLTOY)
Current Dividend Yield:2.09%
Country: Greece
5.Company: Koninklijke KPN (KKPNY)
Current Dividend Yield: 7.94%
Country: The Netherlands
6.Company: Magyar Telekom Tavkozlesi Nyrt (MYTAY)
Current Dividend Yield: 11.27%
Country: Hungary
7.Company: Portugal Telecom (PT)
Current Dividend Yield: 10.47%
Country: Portugal
8.Company: Swisscom (SCMWY)
Current Dividend Yield: 2.95%
Country: Switzerland
9.Company: Telecom Italia  (TI)
Current Dividend Yield: 6.48%
Country: Italy
10.Company: Telefonica  (TEF)
Current Dividend Yield: 8.43%
Country: Spain
11.Company: Telekom Austria (TKAGY)
Current Dividend Yield: 8.80%
Country: Austria
12.Company: Vodafone Group (VOD)
Current Dividend Yield: 5.43%
Country: UK
Disclosure: No Positions