The chart below shows the performance of the various Russell Global Market Cap Indices from 1999 thru 2010:
Click to enlarge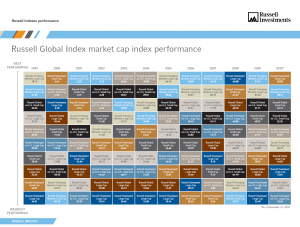 Source: Russell Investments
Some observations:
In the period shown, emerging market small caps have been the best performers in most years.
For most years, developed market large caps have been the weakest performers.
Since 2001, emerging markets large caps have outperformed developed markets large caps.
At the height of the global financial crisis in 2008, emerging market stocks of all caps fell heavily than developed world stocks but rebounded sharply in 2009.