The chart below shows the performance of the various Russell Global Index Sectors from 2000 thru 2010:
Click to enlarge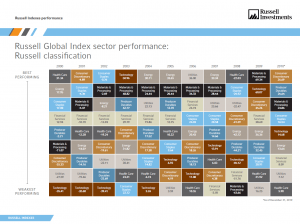 Source: Russell Investments
Some observations:
Due to the boom in commodity markets in the past decade materials and processing has been one of the consistent top performing sector.
Since the credit crisis, the technology sector has recovered nicely and is performing better than they did in the past.
From 2007, the financial services sector has performed poorly than other sectors.