Brazil is one of the perennial favorite emerging market destination for many investors. However in terms of equity market performance, the smaller Latin American economies of Peru and Colombia beat Brazil over the 5-year term.
In a recent Trustnet (UK) article Fidelity manager Alex Duffy noted:
"Despite the fact that Brazil is the largest economy in LatAm, it has actually only been the best performing market twice in the past 10 years," the manager explained.

"Colombia and Peru have delivered consistent returns at far lower volatility than Brazil."
The following chart shows the 5-year performance of MSCI indices for Peru, Colombia and Brazil: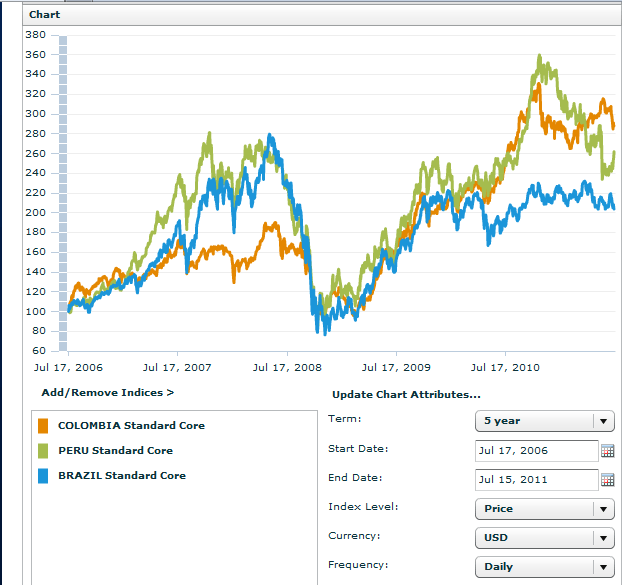 Source: MSCI
The MSCI indices for Colombia and Peru has clearly outperformed Brazil in five years in US dollar terms. Though Brazil is home to some of the top companies in Latin America, better performing companies exist in other countries such as Chile, Colombia, Peru, etc. Two such companies are Peru's Compania de Minas Buenaventura (BVN) and Colombia's Ecopetrol (EC).
The key takeaway from this post is that it is always not a good idea to follow where the hot money is flowing into. This is especially true with respect to selecting and investing in emerging markets.
Related ETFs:
iShares MSCI Brazil Index (EWZ)
iShares MSCI All Peru Capped Index (EPU)
Global X FTSE Colombia 20 ETF (GXG)
Market Vectors Colombia ETF (COLX)
Disclosure: No Positions