In the past few days uranium and some utility stocks have seen a sharp sell-off due to fears of radiation from the quake-stricken nuclear power plants in Japan. However today the radiation level fell in the immediate zone of the plants. Paranoia about this situation turning into a Chernobyl-type disaster is just scare-mongering. In addition, it is "unlikely that any radiation capable of causing harm to people will be left in atmosphere after seven days and 2,000-plus miles of travel distance, says a forecast of trajectories of radioactive emissions/fallout from Japan given by the US National Oceanographic and Atmospheric Administration (NOAA)."(emphasis added)
Rising demand for electricity is forcing many countries such as China to turn to nuclear power generation. From a recent Journal article: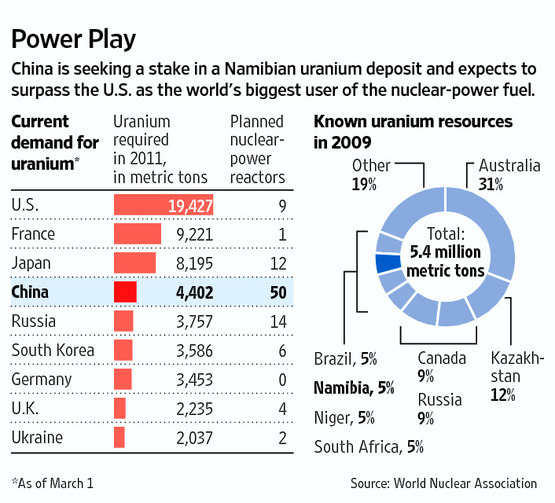 Qian Zhimin, deputy director of China's National Energy Administration, said China's planned construction of dozens of nuclear reactors in the next decade meant that it would overtake the U.S. in terms of uranium use.

"It is a question of time. We will not have to wait long for it to be true. It should happen some time before 2030," he told the China Daily newspaper.

The China Nuclear Energy Association said last year that China planned to build at least 60 reactors by 2020, with each requiring 400 metric tons of uranium to start operating. China already has 13 working civil nuclear reactors with a combined annual capacity of 10.8 gigawatts.
From a related piece in the Financial Post:
The consensus among industry experts is that the uranium price could come under significant pressure as the issue of nuclear safety rises back to the forefront. But the odds are against a meaningful slowdown in nuclear construction.

The simple reason is China, which has huge power requirements and needs more nuclear energy. China has the most ambitious nuclear development plans of any country, with 27 reactors under construction and another 160 in the planning stages, according to the World Nuclear Association.

"Half of the [uranium demand] growth over the next 10 years is all coming from China," said Orest Wowkodaw, an analyst at Canaccord Genuity. "And I don't see this [emergency] changing their energy policy."

The impact could be more pronounced elsewhere, experts said. Marshall Auerback, a director of Pin-etree Capital Ltd., which runs Toronto-based Mega Uranium Ltd., said the Japanese disaster could lead to a slowdown in the permitting process for new reactors in the United States and other countries where nuclear power is a sensitive issue. However, he sees little chance that this will hinder demand in a major way.
Germany's Chancellor Angela Merkel has announced the temporary shutdown of seven of the 17 nuclear plants for safety checks. But most consider it as a calculated political move to gain votes in the upcoming regional elections. In the neighboring country of France nuclear power plants generate the majority of the electricity. Though politicians may play into the public's anxiety now nuclear power will continue to play a role in meeting the energy demands of many countries.
How to profit from the current sell-off?
In the uranium mining space, some of the producers are Canada-based Cameco Corp(CCJ) and Denison Mines Corp (DNN), USEC Inc (USU), Uranium Energy Corp (UEC), BHP (BHP), Rio Tinto (RTP),France's Areva(ARVCY), Russia's ARMZ and Kazatomprom. The Global X Uranium ETF(URA) offers a simple and easy way to invest in many of the uranium companies.
Among the utilities that operate nuclear reactors are Germany's E.ON AG(EONGY) and RWE AG (RWEOY), Spain's Iberdrola SA (IBDRY), France's GDF Suez SA (GDFZY) and Electricite de France SA (ECIFY).Long-term investors looking to gain exposure to European utility stocks can add some of these companies at current levels. An added benefit is that most of these firm have excellent dividend yields.
Disclosure: Long EONGY, GDFZY