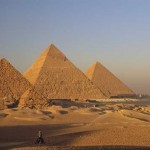 The situation in Egypt continues to unfold with President Mubarak dismissing his government today. As a result of the unrest, Egyptian equities have performed poorly so far this year. The stock market crashed 10% yesterday following another 6% fall the day before.  The EGX 30 Index is down about 21% YTD.
The only country-specific ETFÂ  for Egypt is the Market Vectors Egypt Index ETF (EGPT). The ETF fell another 3.40% today on heavy volume. As of January 27th, the fund is down about 17% for the year. This ETF has a very small asset base of just $11.7 million.Out of the 29 holdings, the top three are Commercial International Bank Egypt, Orascom Construction Industries and Orascom Telecom Holding. Financials constitute about 46% of the portfolio.
The five Egyptian ADRs trading on the OTC markets in the U.S. are listed below:
1. Commercial International Bank (CIBEY)
YTD Change: -24.13%
Current Stock Price: $6.32
2.Orascom Construction (ORSCY)
YTD Change: -27.14%
Current Stock Price: $36.25
3.GB Auto S.A.E. (GBAXY)
YTD Change: -10.85%
Current Stock Price: $33.36
4.Lecico Egypt (LECIY )
YTD Change: -0.34%
Current Stock Price: $2.91
5.Remco Tourism Villages(RMTVY )
Related Links:
1. The Egyptian Stock Exchange
2. The Complete List of Egypt GDRs
3. Yahoo Finance – Egypt CMA General Index
4. Market Vectors' The Egypt Index ETF official site.
5. EGX 30 Index Constituents list
6. Egypt Country Info at CIA's The World Factbook site.