The auto industry is one of the best industries to invest in in emerging markets or developed markets as autos have become the preferred mode of transportation for everyone. However the industry is a low margin business and many automakers are not highly profitable.Then how does one profit from this industry?
One way to profit from the growing auto business worldwide is to invest in the automotive parts suppliers.These suppliers produce everything from tires to wipers that become part of a vehicle.
Germany is one of the largest makers of world-class cars. The automotive industry is the largest in Germany employing over 723,000 workers directly and accounting for about 20% of total revenues of all the German industries. The country is also one of the top leaders in auto production with 20.4 million vehicles produced in 2009 which is equivalent to 17% of global vehicle production. About 70% all vehicles made in Germany are exported.
The highly successful German auto industry offers huge market opportunities for auto components suppliers. Hence in addition to thousands of small and medium-sized domestic suppliers, Germany hosts all of the ten largest auto suppliers in the world. As the value added in the industry increasingly moves to the supplier side these international suppliers play an integral part of the growth of the auto makers not just in Germany but in other countries as well.
The chart below shows the 10 largest international auto-industry suppliers in Germany: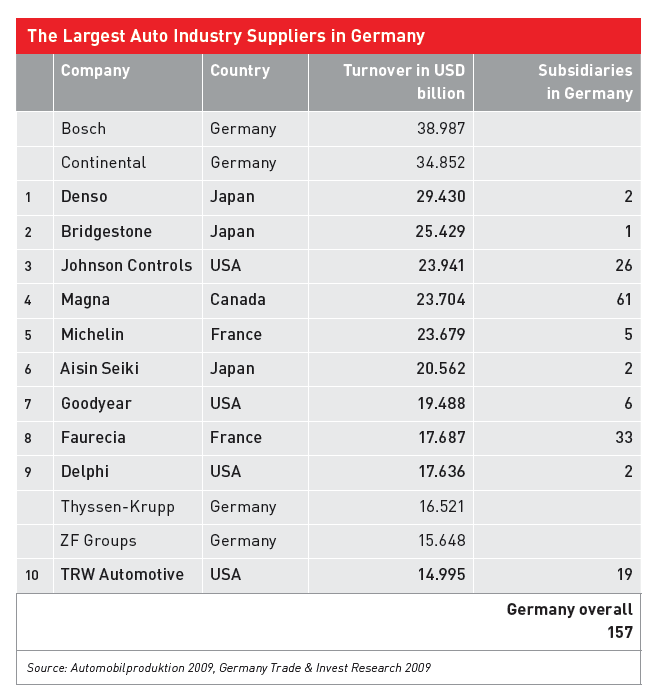 Source: The Automotive Industry in Germany, Issue 2010/2011, Germany Trade & Invest
The following is a short overview of each of the suppliers:
1.Denso Corp (OTC:DNZOY) is headquartered in Kariya, Aichi prefecture, Japan. Denso is a leading automotive supplier of advanced technology, systems and components in the areas of thermal, powertrain control, electric, electronics and information and safety to the world's major car makers. The company has more than 200 subsidiaries and affiliates in 34 countries (including Japan) and employs approximately 120,000 people.In the first half of fiscal year that ended in September 2010, Denso announced net sales of $19.0 billion which was a 22% increase from the previous year.In Europe, due to an increase in production volume by BMW, Ford and Land Rover, operating income totaled US$64.2 million, a 115.4 percent increase from the previous year. The ADR closed at about $18 on Friday. After a strong run, the stock split 8 for 1 in October, 2010.
2. Japan-based Bridgestone (BRDCY) operates in two segments: tire segment and diversified product segment. The tire segment is engaged in the manufacture and sale of tires.  The diversified product segment produces auto-related parts, sports products such as golf balls and golf club, etc. The stocks closed at $37.66 this past Friday.
3. Johnson Controls (JCI) provides automotive interiors, batteries for automobiles and hybrid electric vehicles, along with related systems engineering, marketing and service expertise . For buildings, the Johnson Controls offers products and services that optimize energy use.With the market cap of $27.4 billion, the company's annual revenue has increased about 20% in the last five years.
4. Magna International Inc (MGA) is an Aurora,Ontario based diversified automotive supplier with operations in 25 countries. Magna designs and manufactures automotive systems, components mainly for sale to makers of cars and light trucks. Annual revenue has increased by about 36% in the past 5 years. Magna expects total sales to be between $25.6 billion and $27.1 billion this year.
5. Founded in 1888, French tire maker Michelin owns the Michelin, BFGoodrich, Taurus, Kormoran and Uniroyal (in North America) brands.
6. Aisin Seiki Ltds (ASEKY) is a leading Japanese manufacturer with a complete range of automotive parts. Aisin is a Fortune Global 500 company with operations in many countries.
7. Ohio-based Goodyear Tire & Rubber Company (GT) is a manufacturer of tires. In addition to manufacturing tires, the company operates 1,500 tire and auto service center outlet. Goodyear has 57 manufacturing facilities in 23 countries.
8. Faurecia SA(FURCF), is a French specialist in the engineering and production of automotive solutions. The company operates 200 production sites in 32 countries  and is Europe's third largest automotive supplier.Annual revenues in 2009 exceeded 92 billion Euros.
9. Based in the U.S., Delphi is a leading global supplier of electronics and technologies for automotive, commercial vehicle and other market segments with operations in 30 countries. In 2009 Delphi exited from bankruptcy protection and is now a private company.
10. Headquartered in Livonia, Michigan, TRW Automotive Holding Corp (TRW) operates in 26 countries and employs over 60,000 people worldwide.TRW's products include integrated vehicle control and driver assist systems, braking systems, steering systems, suspension systems, occupant safety systems (seat belts and airbags), electronics, engine components, fastening systems and aftermarket replacement parts and services. In 2009, sales totaled $11.6 billion.
German auto suppliers ThyssenKrupp AG and Continental AG trade on the US OTC markets under the tickers TYEKF and CTTAY respectively. A complete list of auto suppliers listed on the NYSE can be found here.
Disclosure: No Positions