The MSCI indices are a group of indices that measure the performance of individual countries, regions, etc. ETFs and other products use these indices as benchmarks to track their performance. Hence it is important to analyze the performance of these indices at least annually. Lets take a quick look at the MSCI Index performance for individual countries for 2010.
1) Emerging Countries
Click to enlarge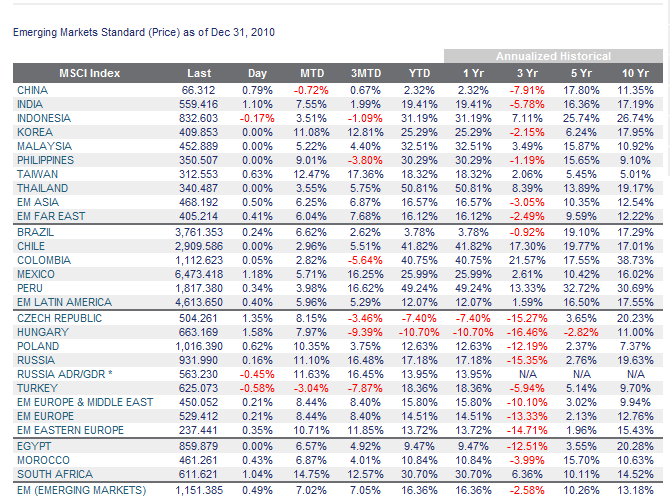 Some Observations:
Among the MSCI indices for Emerging countries, Thailand was the best performer with a return of about 51% and Hungary was the worst performer.
The indices for Chile, Colombia and Peru also returned over 40% each.
Among BRIC countries, India and Russia grew about 18% and 17% respectively.
On a 5-year basis, Peru and Indonesia are two of the best performing markets.
Some Observations:
Many Western European countries were the worst performers.
Sweden was the best performer with a return of about 31% followed by Denmark with about 30%.
Singapore tops the indices on the 5-year returns with about 12%.
While the U.S. returned a negative 0.40% based on 10-year returns, Canada, Australia, Norway and Denmark returned over 8% each. This vast difference in returns is significant.
Source: MSCI Barra
Some Observations:
Sri Lanka beat all the other countries in this category with a return of an incredible 72%. The market there as been on a tear since the end of the decades-old civil war.
The indices for Argentina and Estonia also returned over 50%.
Note: All returns are noted in US Dollar terms
Related ETFs:
Claymore/BNY Mellon Frontier Markets ETF (FRN)
Market Vectors Africa ETF (AFK)
PowerShares MENA Frontier Countries Portfolio ETF (PMNA)
iShares MSCI Emerging Markets Index (EEM)
Vanguard Emerging Markets ETF (VWO)
SPDR S&P 500 ETF (SPY)
SPDR STOXX Europe 50 ETF (FEU)
Disclosure: No Positions