Earlier this year Murray Leith of Odlum Brown, a British Columbia,Canada-based financial services firm made a presentation in which he suggested the theory that Canada is a play on China. He stated that"the Canadian stock market really hangs on China's fortunes." I wondered if his theory is indeed correct.
Murray noted that the Canadian stock market is not well diversified like the U.S. markets. The composition of the S&P/TSX Composite Index is shown below: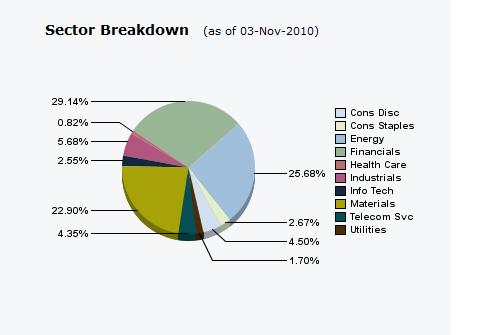 About 49% of the index is made of the resources sector and 29% is concentrated in financials.Together they makeup more than three-quarters of the Canadian markets. So when compared to the US S&P 500, the Canadian market is highly concentrated on just two sectors.
Murray said that "Financials are not directly tied to China like Resources, but they are from an indirect perspective considering that China's resource demand has a major influence on the overall health of our country."  The Canadian financial sector has more exposure to Latin America, the Caribbean and the U.S. than China. Hence even if China imports a large amount of Canadian resources, the financial system is more likely to be impacted by the economic situation in Latin America and the U.S.
It is a well known fact that Canada is the largest trade partner of U.S. Thru August this year trade between Canada and the U.S. exceeded $346 billion while trade between U.S. and China totaled  $285 billion.In 2009, total trade between U.S. and Canada was $429 billion.
Last year Canada exported just over C$10 billion to China but imported goods worth C$39 billion from China. The majority of the exports were oil seeds, fruit, grain, woodpulp, paper or paperboard scraps, ores, slag and ash. In the first half of this year Canadian exports to China exceeded C$5.5 billion.
From The Canadian Chamber of Commerce report titled "Canada–China: Building a strong economic partnership":
"Two-way trade between Canada and China continues to expand, albeit at a slower pace following the 2008 financial crisis; the total value of two-way trade was C$50.8 billion in 2009 versus C$47.8 billion in 2007. A 2009 Fraser Institute study found that despite this growth,Canada's two-way trade with China remains well below potential.
Indeed, while China is Canada's third-largest trade partner and third-largest export market, Canada's trade with China still represents only seven per cent of our country's overall merchandise trade. Only three per cent of Canada's merchandise exports went to China last year, versus 75 per cent to the United States. It is clear there is room to achieve substantial growth in Canada's commercial exchanges with China."
Click to Enlarge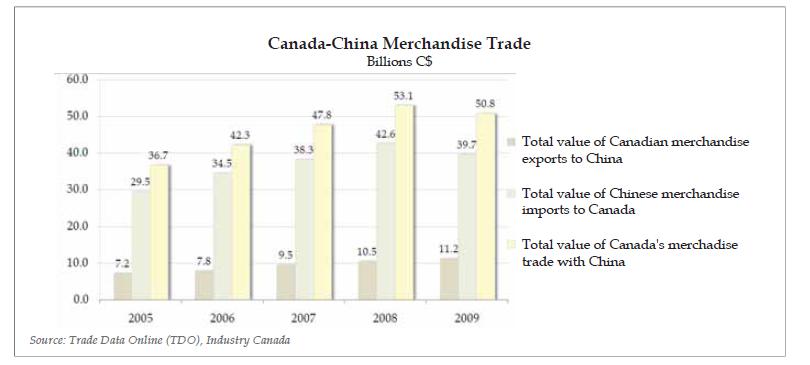 Hence based on the analysis noted above I do not agree with the view that Canada is a play on China. China is dependent on Australia and other economies in Asia for trade and economic growth than Canada. Despite the Chinese demand for many commodities that Canada has, our northern neighbor's fortune is still dependent on the U.S. economy.
Sources: Asia Pacific Foundation of Canada, U.S. Census Bureau and others