Due to sluggish economic growth in the developed world and strong growth in emerging countries, investors are betting that emerging market equities will yield better returns. According to a story in the Journal:
"In a recent report, Standard & Poor's said that almost $50 billion flowed into emerging-markets equity funds this year through September, while $78 billion flowed out of developed-market funds, based on data from fund-flow tracker EPFR Global. In the week ended Oct. 6, emerging-markets equity funds attracted $6 billion, the largest weekly inflow in about three years."
Based on the trailing P/E ratio emerging market stocks are no longer cheap compared to U.S.  stocks.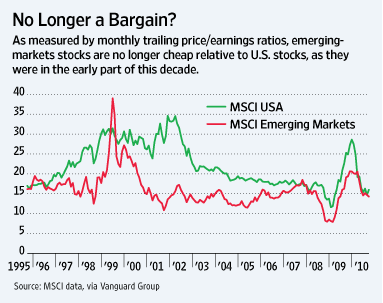 Source: The Wall Street Journal
"Vanguard analysts sometimes look at the price/earnings ratio for the MSCI Emerging Markets Index on a trailing basis. It suggests that valuations for U.S. and emerging-markets stocks have moved much more closely into alignment recently, compared with much lower relative valuations for emerging-markets stocks early in the decade."
As ETFs have become very popular, emerging market ETFs are attracting a large portion of the funds that investors are pouring into emerging stocks. Hence the asset base of two of the biggest emerging market ETFs continues to grow. In October alone, the Vanguard MSCI Emerging Markets ETF (VWO) attracted $3.22 billion in new assets. The iShares MSCI Emerging Markets Index Fund (EEM) collected $1.57 billion. The iShares ETF retains its position as the largest emerging-market fund with total assets of $48.0 billion as of November 1, 2010.