For the first time since 1991, Russia beat Saudi Arabia to become the the world's biggest producer of crude oil in 2009. Russia's average output was 10.0 million barrels per day compared to 9.7 million barrels by Saudi Arabia.
The Top 10 Global Crude Oil Producers in 2009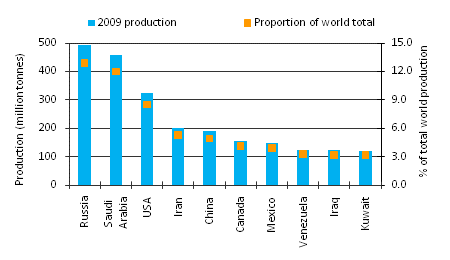 Source: Euromonitor International from BP Statistical Review of World Energy
In addition to crude oil, Russia is also the world's biggest exporter of natural gas. While Russia was the world's biggest producer of crude oil last year, in terms of proven oil reserves and production capacity Saudi Arabia still takes the top spot. Both Russia and Saudi Arabia are competing to export more oil to China. China is already the largest fastest-growing international export market. In August this year the first section of a major pipeline connecting Siberia and China was opened, allowing easier access for Russian oil to the Chinese market.
Some of the Russian oil & gas producers that trade on the US markets are : Gazprom(OGZPY), Gazprom Neft (GZPFY),LUKOIL (LUKOY),Surgutneftegaz (SGTZY) and Tatneft (OAOFY).
It interesting to note that Canada produced more crude oil than the Gulf countries of Iraq and Kuwait.