The Troubled Asset Recovery Program (TARP) was started by the U.S. government in 2008 to purchase assets and equity from troubled financial institutions and strengthen the sector at the height of the credit crisis. Billions of tax payer funds were loaned to banks and other lenders thru this program.
According to a report in The Banker magazine, it seems that the TARP was successful to the US in terms of return on investment and the stated goal of the program. The following are some of the key points quoted by the magazine based on the July report from SIGTARP, the body monitoring the various programs under the umbrella of the TARP:
87 TARP recipients had repaid all or a portion of their principal or repurchased shares, for a total of $201.5B.
A total of just $182.5B of disbursed TARP funds is outstanding.
By July, the US government had received $22.7B in interest, dividends, sale of warrants, stocks and other income.
Click to Enlarge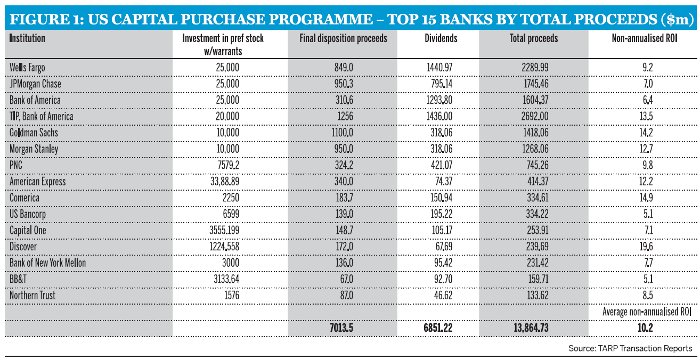 Source: The Banker
Of the 707 banks that received almost $205B in TARP funds through the Capital Purchase Program (CPP), 76 have fully repaid their funds to a total of $138.4B. Hence the US has recovered 67.5% of the funds invested in banks.
Of the remaining banks that owe money to the US, 580 of them owe less than $100M.
The US government reaped a high rate of return on the TARP funds that have been fully repaid already.The top 15 by total proceeds yielded an average non-annualized return of 10.2%.
Some examples of individual returns include Discover Financial Services(DFS), Comerica(CMA) and Goldman Sachs(GS) with 19.6%, 14.9% and 14.2% on an non-annualized return basis respectively.
When the TARP program was implemented there was much outcry from the general public. However the data above shows that the program not only achieved its stated objective but also yielded an excellent return to the US government.
Related:
As TARP Fades, a Look at Its Flaws and Its Success