The S&P 500 is down 3.7% YTD as of market close Monday. Closely tracking the U.S. market is Mexico's IPC All-Share Index which is down 4.2%.
Due to the strong ties between U.S. and Mexico, the Mexican economy moves up and down in tandem with the U.S. economy.However due to weaker fundamentals Mexican investments suffer greatly when the U.S. underperforms.
The economy of Mexico is finally improving after the worst recession in almost a century. Mexico's international reserves reached a record $95. 7 billion in March. The oil and manufacturing sectors are showing strong improvements and Mexican exports increased by 39% in March relative to March 2009. The automotive industry, one of the most important industries in the country, is recovering strongly with production and exports up in the first four months of this year.The unemployment rate in the first quarter stood at 5.3%. (Source: CEIC Macro Watch).
Accordingly The MSCI Mexico Index has recovered strongly and has currently reached the pre-credit level. However when compared to Brazil, Mexico took a longer time to reach this level from the October 2008 lows as the chart shows below:
Country Performance: Mexico vs. Brazil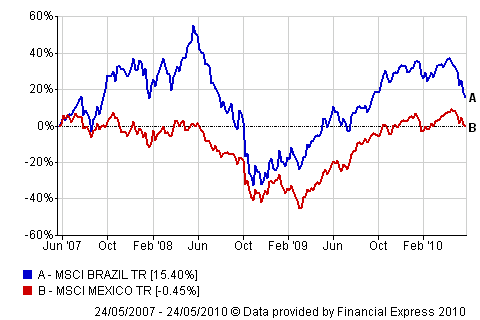 Source:Â  Financial Express Analytics
Due to the contrast in the pace of rebound between Mexico and Brazil, many value plays can be found in Mexican equities. Some of the Mexican stocks to consider are telecom providers Telemex(TMX) and America Movil(AMX),  airport operators Grupo Aeroportuario del Centro Norte (OMAB), Grupo Aeroportuario del Pacifico (PAC) and Grupo Aeroportuario del Sureste (ASR), cement maker Cemex(CX) and beverage company Coca Cola Femsa(KOF). TMX offers a 5.87% dividend yield now.The three airport operators hold long-term concessions and will benefit as the number of tourists visiting the country increases. In addition to Mexico, Coca-Cola Femsa (KOF) derives a significant portion of revenue from distribution of its products in other Latin American countries.
Another simple to invest in Mexican equities is to invest via the iShares MSCI Mexico Investable Market Index ETF (EWW).