The FDIC shutdown three banks in Puerto Rico(PR) yesterday which were on the verge of failure. The closed banks cost over $5B to the FDIC's Deposit Insurance Fund (DIF). The three closed banks are:
1. W Holding Co. Inc.'s Westernbank (WHI)
2. R&G Financial Corp.'s R-G Premier Bank(OTC: RGFC)
3. EuroBancshares Inc.'s EuroBank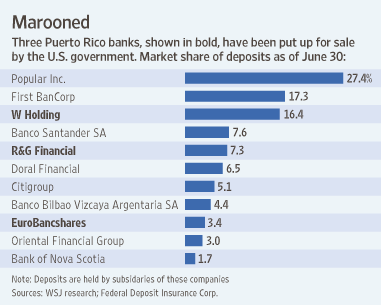 Source: WSJ
Oriental Bank and Trust of PR assumed all of the deposits of Eurobank. Scotiabank de Puerto Rico, a subsidiary of Bank of Novo Scotia(BNS), one of Canada's largest banks assumed all of the deposits of R-G Premier Bank. PR bank Banco Popular de Puerto Rico(BPOP) took over the deposits of Westernbank Puerto Rico. Hence the market share of deposits of the three acquirers would rise from the fugures shown in the graph above.
From a Journal article:
"Not since the savings-and-loan crisis has the FDIC faced such a steep challenge in a local banking market. In one day in 1991, the FDIC shuttered seven New Hampshire banks that held 25% of bank assets in the state.
Washington Mutual Bank, the largest bank failure in America, held 11% of deposits in its home state of Washington before it collapsed in 2008, the largest bank failure in U.S. history.
The three Puerto Rican banks put up for sale by U.S. regulators have one-fourth of the island's bank assets and more than one-fourth of its deposits."
Puerto Rico's economy has been struggling for many years now when the manufacturing industry left due to the phasing out of tax incentives. The current unemployment rate is over 15% and the household income is worse than that of Mississippi, the poorest state in the union. The government deficit soared 30% of annual budget in 2009. So many structural changes have to be made before the economy can recover in the island nation. However sale of the above three banks puts the banking industry, the lifeblood of the country's eocnomy, in a better positon.