The city state of Singapore was not affected severely during the financial crisis and is now well positioned to benefit from a rebound in the global economy. The seasonally adjusted unemployment rate for December 2009 was just 2.1%. As a major hub for international trade and commerce, for January this year total trade was up 33.2% and the industrial production was also up significantly. Tourist arrivals increased about 18% in January compared to the same month last year (Source: Statistics Singapore).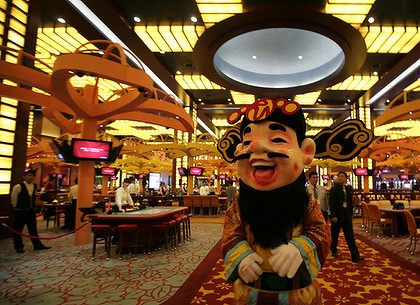 Resorts World Sentosa Casino, Singapore (Courtesy: Malaysia Finance)
The government of Singapore is famous for its forward-thinking and enacting policies that are growth-oriented. One of its visions was to transform Singapore into an entertainment mecca in Asia and attract visitors from the around the world especially from the fast-growing markets of China, India, etc. As part of this initiative, the country allowed the building of its first casino a few years ago. Resorts World Sentosa is an integrated complex that includes a casino, an Universal Studios theme park, hotels, shopping plazas, etc. The casino opened its doors on Feb 14th, the first day of the Chinese Year of the Tiger. Another casino resort named Marina Bay Sands and built by Las Vegas Sands is  slated to be opened soon in the downtown business district. Once both the casinos are fully operational,  they are projected to earn $2.1B in revenues this year according to CLSA Asia-Pacific markets. Most of the visitors are expected to be from overseas mainly from China as the casinos will charge a S$100 entrance fee for each 24 hours for Singaporeans.
In order to prevent over-growth of population and to protect local wages Singapore announced proposals last week to curtail immigration. Overall Singapore is in a relatively better shape compared to other developed countries. The opening of casinos and the theme park should provide additional growth to the local economy.
The iShares MCSI Singapore Index Fund (EWS) tracks the performance of the Singapore equity market.There are 30 holdings in the portfolio and the fund has total assets of about $1.5B. Two of the leading Singapore banks are United Overseas Bank (OTC: UOVEY) and DBS Group Holdings (OTC: DBSDY). Both the banks are well capitalized and have a large presence in other Asian countries as well. To answer my title question, Singapore stocks should perform well if the global economic recovery continues.