Australia is a developed country with a population of about 22 million. The country is rich in many natural resources and is ranked highly in many global comparisons of factors such as quality of life, healthcare, education, etc. Australia is similar to Canada in that both the countries have parliamentary democracy and are commodity-based economies.  Australia, known as the "The Lucky Country", offers many advantages as an investment destination.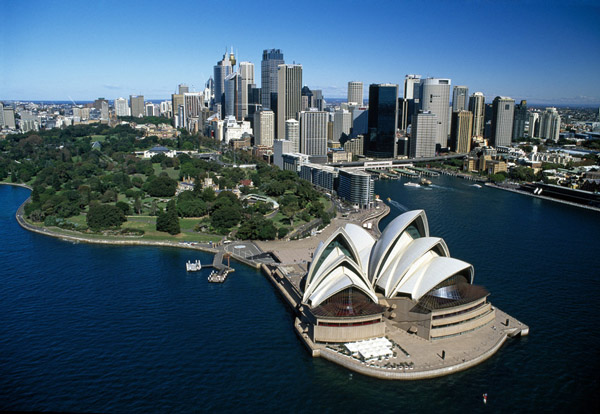 The following are some of the reasons to invest in Australia:
Australia is one of the few OECD countries to successfully weather the global financial crisis and it was the first G20 country to tighten the monetary policy by raising the key interest rate last October.
The country enjoyed consecutive economic growth for 17 years from 1992 to 2008 and is best positioned to participate in the growth of Asian markets of India and China due to its close proximity and natural resources.
The fiscal position is relatively strong and the current account averages just 4.5% of the GDP.
Many of Australia's major export markets are in the vibrant and growing Asia including the countries of China, Japan, India, South Korea making it less dependent on the US and European countries.
Australian companies generally have higher dividend yields than most US companies.
Some of the Australia's large exports are coal, iron ore, wheat, alumina, etc. Australia is the largest exporter coal in the world and China is the largest consumer of Australian coal. On the services sector, education has become a major export with Australian universities attracting thousands of students from the emerging markets of Asia.
The unemployment rate as of January,2010 is just 5.4% which is much lesser than the OECD average.
Australia's equity market has been the best performing market for the past 110 years since 1900 with a real return of 7.5% per year.
Australia has the political risk is the lowest in the region.
The regulatory environment is strong but business friendly. A recent IMF study confirmed that Australian banks remained sound during the global credit crisis.
How to Invest in Australia?
The simplest and easiest way to invest in Australia is via the iShares MSCI Australia Index ETF (EWA). The fund has an asset base of about $2.2B and contains most of the the large companies there. Another way is to go with the closed-end for Aberdeen Australia Equity Fund (IAF). The expense ratio is 1.73% and the fund has total assets of about $208M. A third alternative is to invest directly in Australian equities. Some of the ADRs available are National Australia Bank (OTC: NABZY), Westpac Banking (WBK), Australia and New Zealand Banking Ltd (OTC: ANZBY), BHP Billiton (BHP), etc. The complete list of Australian ADRs can be found here and here.