The current Fed Funds Rate is 0.25%. It been at this rate for many months now and the Fed plans to keep the rate at this level for an extended period of time. However despite this low rate bank lending has not increased. Both consumers and businesses are not borrowing due many reasons such as uncertainty about the future, lack of demand for products and services, lack of investment opportunities, etc.
Reuters reported the following last month:
"Despite a more stable financial system, banks are still not lending and the quality of loans on their books continues to get worse as the U.S. housing market remains in the doldrums, a top official at the Federal Reserve said on Wednesday.
"Access to credit also remains difficult, especially for households and small businesses that depend significantly on banks for financing," said Jon Greenlee, Associate Director for Bank Supervision and Regulation at the Fed.
"Loan quality continues to deteriorate across a number of asset classes, and … has declined further as weakness in housing markets affects performance of residential mortgages and construction loans," Greenlee said in prepared remarks to a Congressional Oversight Panel field hearing in Atlanta." (emphasis added)
Consumers have cut down on spending in the past few months due to the recession and high unemployment. Just this month the Federal Reserve reported:
"Consumer credit decreased at an annual rate of 4-3/4 percent in the fourth quarter of 2009. Revolving credit decreased at an annual rate of 13 percent, and nonrevolving credit was unchanged on net. In December, consumer credit decreased at an annual rate of 3/4 percent."
This is the 11th straight month that consumer credit has declined. Since the U.S. economy is still a consumption-driven economy as opposed to export-driven economy like that of Germany or Japan, the economic recovery will take a long time. Businesses are still in the process of repairing their broken balance-sheets. Hence they will not be able to stimulate the economy and replace the spendthrift millions of U.S. consumers.
The phenomenon of debt rejection can take some time to subside. According to the following chart it took 30 years for the US interest rates to recover to their 1920s level.
Click to Enlarge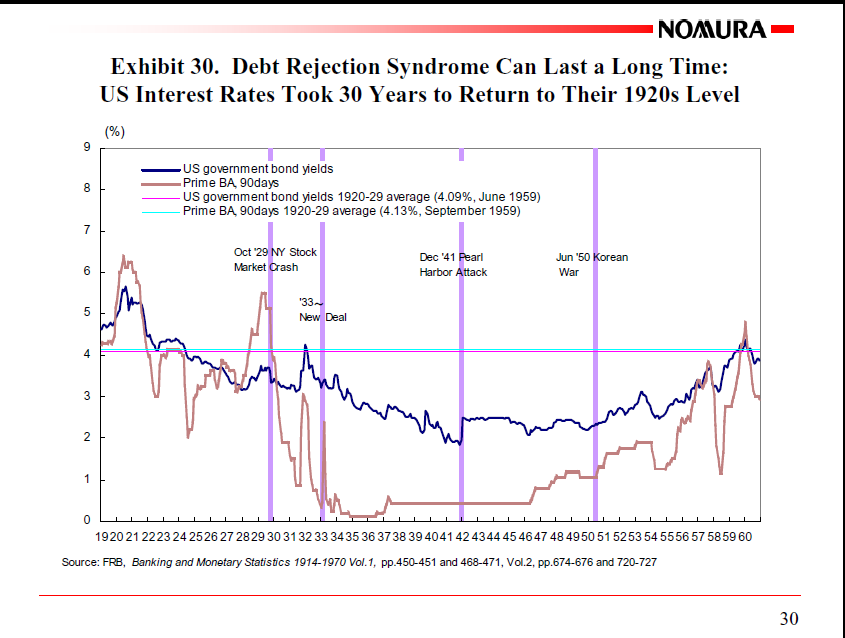 Source:
The Age of Balance Sheet Recessions: What Post-2008 U.S., Europe and China Can Learn from Japan 1990-2005 by Richard C. Koo, Chief Economist, Nomura Research Institute
Tokyo, March 2009