The Colombian economy is the third largest in Latin America after Brazil and Mexico.The country has a population of 44 million and is rich in many natural resources such as oil, natural gas, titanium, copper and uranium.
Colombia's oil and natural gas deposits are one of the largest in Latin America. About 50% of the oil is exported to overseas markets.The country also produces surplus electricity from hydro-power that is exported to neighboring countries like Ecuador and Venezuela. The left-wing guerrilla group FARC has largely been confined to the jungles and the nasty drug wars that used to ravage the country are long over. Violence is down significantly though occasional shootings and drug-related crime do occur in places like Bogota, Medellin and Cali.The current administration of President Alvaro Uribe is making all the right moves in converting Colombia as an economic powerhouse in the region.
One of the main factors that makes Colombia attractive for investment is the expected  ratification of Free Trade Agreement with the US. As a result of signing a  new military cooperation agreement with the US, the Colombian government expects that the US Congress to ratify the trade agreement. Other points that support Colombia include government investment in education, transportation infrastructure, etc. In fact, many of the professionals in the country are well educated and are bilingual with some having graduate level education from US universities.
The Foreign Direct Investment (FDI) into Colombia was $10.6B in 2008, the highest ever in recorded history and a 17% jump over 2007. In the first half of this year about $4.8B in capital flowed into the country according to ProExport. The main sectors that attract foreign capital are mining, oil and manufacturing. The US is the largest foreign investor in Colombia and accounted for 36% of FDI in first half of 2009. Some of the US companies with operations in Colombia include Coca Cola (KO), Kimberly Clark (KMB) and Goodyear Tire & Rubber Company (GT).
FDI flows into Colombia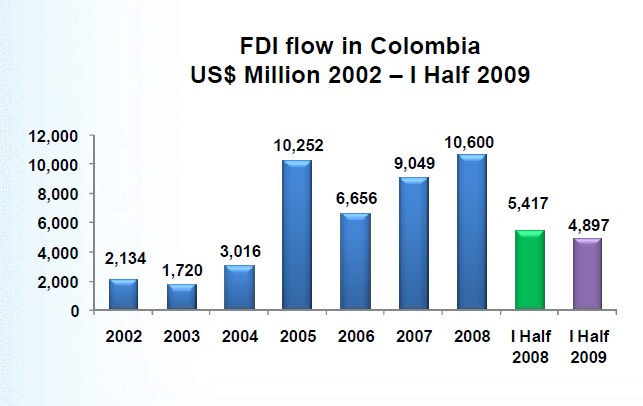 Source: ProExport
How to invest in Colombia?
Unfortunately just two Colombian ADRs are listed in the organized US exchanges.The banking company Bancolombia (CIB) and oil major Ecopetrol(EC) trade on the NYSE. Bancolombia is up about 94% YTD.
Another simple and easy to gain exposure to Colombian equities is to invest in Global X/InterBolsa FTSE Colombia 20 ETF (GXG) which started trading in February this year. This ETF tracks the 20 most liquid stocks in the Colombian market. Bancolombia and Ecopetrol account for about 38% of the portfolio. The NAV has shot up about 96% since inception.