Komodo dragons are the world's heaviest living lizards.They can grow to an average
length of 10 feet and weigh about 200 lbs. Komodos are found primarily in the Lesser Sunda Islands of Rinca, Komodo, Flores and the smaller islands of Gili, Montang and Padar in Indonesia.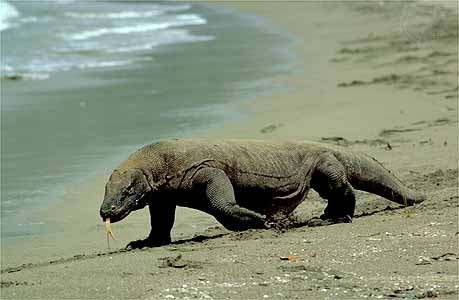 The country of Indonesia has a population of about 229 million with the majority of them following Islam. During colonial times, the nutmeg plant attracted Europeans – especially the Dutch – to Indonesia who ruled the country until its Independence. In modern times, Indonesia is a large natural resources exporting country with the major commodities being crude oil, natural gas, tin, copper and gold. Indonesia's major trading partners are China, Japan, Singapore and the U.S.
In a  special report titled Chindonesia published in July, CLSA Asia Pacific Markets stated some of the reasons that make Indonesia an attractive investment destination. The important points from this report are listed below:
Indonesia is a marginal supplier of natural resources to China and India, two of the world's fastest growing economies
The country has a youth population and about 22 million more people are projected to join the workforce in the next decade
The GDP per-capita growth in recent years has been strong
Indonesia is the world's largest exporter of palm oil  and will profit greatly when the demand for palm oil from China and India doubles by 2014
Indonesia is the largest exporter of thermal-coal exporter and China is the world's largest importer of this type of coal
The country largely avoided the global financial crisis
For US investors, the Market Vectors Indonesia Index ETF (IDX) offers a simple and easy to invest in Indonesia. The fund was launched on January 15th this year and has an asset base of about $181M, which is good for a frontier market fund. The expense ratio is 1.08%.
Another way to invest in Indonesia is via the closed-end equity fund, The Indonesia Fund (IF).
To answer my title question, yes one must allocate a small portion of their portfolio to Indonesia. As a frontier market it has many risks including political risks, currency exchange risks, etc. But since the country has many commodities that the world needs and is one of the large economies in the world investors may not go wrong by gaining some exposure to this market.