On August 20th, the Journal had a piece titled "At Europe's Banks, Riskier Tack on Capital" discussing the financial strength of European and U.S.banks.
Banks in continental Europe have strengthened their finances through  "strong earnings, benign markets, dividend cuts and some asset sales". However unlike their British and American peers, they have not increased their capital by issuance of shares. "So far this year, banks on the Continent have raised only $11.6 billion in new equity capital, compared with $48.3 billion in the U.S. and $26 billion in the U.K., according to figures from Dealogic."
Continental European bank's reluctance to raise new capital easily by issuing shares is good for existing shareholders. Long-term investors hate it when companies dilute their holdings by issuing new shares.
However as the article mentions, in the U.S. most banks don't give a second-thought of issuing new shares. For example, regional bank BB&T (BBT) issued 33.5 million shares at $26 per share on August 18th raising $837.1 M. Four days before the new offering on August 14th, BB&T bought the failed Colonial Bank of Alabama.
Some other examples of share offerings include:
Suntrust (STI) – 124.3 million shares at $13.00 per share
KeyCorp (KEY) – 205.4 million shares at $4.87 per share
U.S. Bancorp (USB) – 139 million shares at $18 per share
Big banks in the U.S. have raised billions of dollars in such new share offerings. One of main reason cited by these banks to issue shares is to raise their capital levels to bring it to the levels required by the regulators that conducted the stress tests. So in a way regulators helped banks dilute the holdings of existing shareholders.
Tier 1 Capital Ratios of select US and European Banks: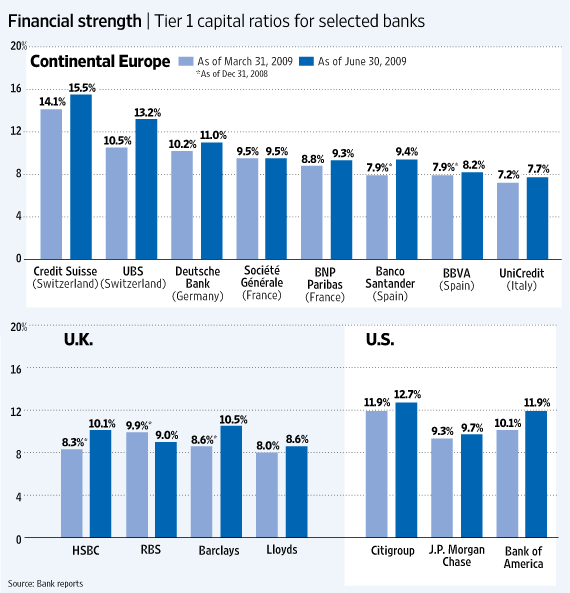 Source: The Wall Street Journal
In continental Europe, Swiss-banks UBS (UBS)Â  and Credit Suisse(CS) have strong Tier 1 capital ratios at 13.2% and 15.5% respectively at the end of June. This is higher than the Tier1 ratios of US banks like Citibank(C), JP Morgan Chase (JPM) and Bank of America (BAC). To bring up Tier1 to at least 10%, BNP Paribas (BNPQY), BBVA(BBV) and Banco Santander(STD) and Unicredit must try to increase their earnings.