The Obama administration has announced that $27B are to be spent on critical repairs to the country's crumbling roads and infrastructure under the American Recovery and Reinvestment Act (ARRA) of 2009. In total, the government plans to spend $111B in Infrastructure and Science according to the site Recovery.gov.  How many jobs will this infrastructure spending create?.  I am not sure if any estimate has been made just for the infrastructure spending. The government site states the overall jobs expected to be created/saved over the next 2 years by state. For example, it states that 396,000 jobs would be created/saved in California.
However The World Bank has done a study on the impact of infrastructure spending in Latin American and Caribbean countries. The following chart shows that a total of 40,000 new jobs may be created for each $1B invested in infrastructure: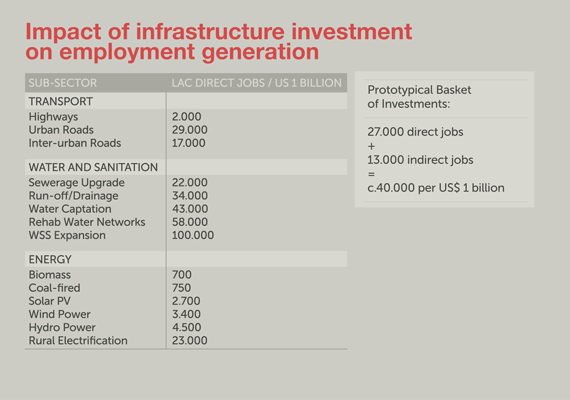 Source: The World Bank
The World Bank estimates that at least 2 Million jobs would be created for the $25 economic stimulus packages announced by countries in the region. Total commitments to public works projects this year is $125B.
Of course $1B invested here in infrastructure will not create 40,000 new jobs due to wage and other reasons. It would be interesting to see the number of jobs that will be created for the  $27B  to be spent on fixing our roads and bridges.