No exit for Ben US Federal Reserve chairman Ben Bernanke believes that his new gadgetry will allow him to perform a feat of monetary magic no other central banker has managed to pull off. He can talk about it all he likes, but when it comes time to actually pulling the trigger, his nerves will buckle. – Peter Schiff
The US Federal Reserve's pursuit of low interest rates has compromised the entire US financial system, while its present strategy of inflating the economy is inequitable and has many associated risks. A national debate of Fed policies and its possible reorganization has become a pressing matter for the United States. It's time to revamp the Federal Reserve
Nouriel Roubini is a famous–and famously prescient–economic pessimist. So why is he smiling? Dr. Doom Has Some Good News
Loan cash and stimulus money are not going to waste, but are creating a 'wealth effect' that will continue to drive stock prices further, argues George Yan. HSBC: A-shares will rock on to 2010
Exporters yet to fully cash in on domestic demand. China may have become the largest auto market because of the unexpected surge in the sale of vehicles in the past six months, but its prospects of becoming the world's largest goods exporter don't seem all that rosy.
Econowatch – What we're seeing now is not really deflation . . . at least, not yet.Deflation is the word that strikes fear into the hearts of economists more than any other, and this week it was the one on everybody's lips. Both Canada and the United States reported that consumer prices slipped into reverse in June. The 0.3 per cent decline in Canada's consumer prices was the biggest since the 1950s, and the first time the cost of living has dropped from a year earlier since 1994.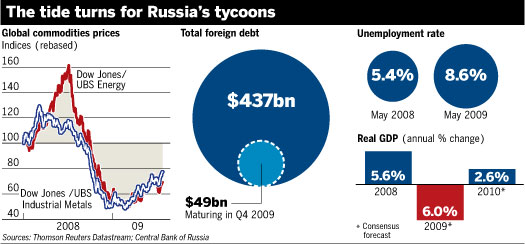 Source: Financial Times
When Oleg Deripaska was forced to seek a multi-billion dollar bail-out loan from the government late last year, even the Russian tycoon's closest associates thought he was finished. Drowning in debt, he was advised to hand control of his vast aluminium interests to the government.
"I told him to go to [prime minister Vladimir] Putin and offer him a deal," says a long-standing business partner. "It was the only option."Too big to fail
In Spain, good politics makes good economies. Democracy power
Fuel oil, the waste left after making gasoline and diesel, is becoming as valuable as crude for the first time in six years.  Maersk Hit With Frontline as Fuel Oil Beats Crude
Many investors are shunning traditional equity-only funds in favour of vehicles that aim to deliver positive returns in all stock market conditions… Investors flock to new-style 'safe' funds
The chancellor grills bank bosses over high profits and takes a hard line on responsibilty to lend to householders and businesses. Darling threatens banks with investigation to encourage lending
Stockmarkets are rising and retailing is buoyant. But even if the worst of the recession is over, past crises have taught economists that next month is no time to be going on holiday.Why August is the cruellest month of all
The sharp rally in U.S. stocks is giving well-regarded investor Jeremy Grantham more than a moment's hesitation.GMO's Grantham: Stocks expensive