In my opinion, the U.S. economy is unlikely to recover without growth in lending by banks. As the world's largest consumption-driven economy credit is the lifeblood that keeps our economy running smoothly. Despite the billions in bailout money given to banks by the government banks are not lending. Today's WSJ article Loans Shrink as Fear Lingers says:
"Lending continues to slow as bankers and borrowers refrain from taking risks, in a bearish sign for the economy.
The total amount of loans held by 15 large U.S. banks shrank by 2.8% in the second quarter, and more than half of the loan volume in April and May came from refinancing mortgages and renewing credit to businesses, not new loans, an analysis by The Wall Street Journal shows.
The numbers underscore two related trends weighing on the economy. Financial institutions are clamping down on lending to conserve capital as a cushion against mounting loan losses. And loan demand is falling as companies shelve expansion plans and consumers trim spending to ride out the recession.
That combination is making it harder for the U.S. economy to rebound, and some analysts predict that loan portfolios won't start growing until the second half of 2010."
Banks  are hoarding the funds they received from the TARP and other programs in order to cut down on taking more risk and to shore up their capital base.It is amazing to see that these banks that were reckless with lending just a while ago are now being being cautious, prudent or say that they could not underwrite high-quality quality loans due to the recession.
The chart below shows the loan portfolios of 15 large U.S. banks shrank  in 2Q,2009.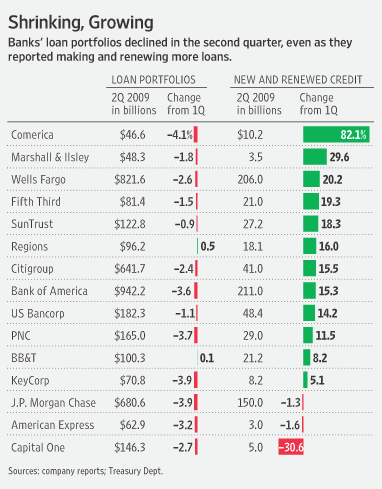 Source: The Wall Street Journal
Banks will continue to tighten their lending standards to prevent further losses. As soaring unemployment forces more folks to default on mortgages and other types of loans, banks will not extend additional credit to borrowers and cancel unused credit lines.Already this scenario is occurring with many banks. Similar to the vicious housing market cycle – where fall in prices leads to fall in demand since many buyers may wait for prices to fall even more – the lending freeze is also likely to prevent a strong recovery of the US economy.