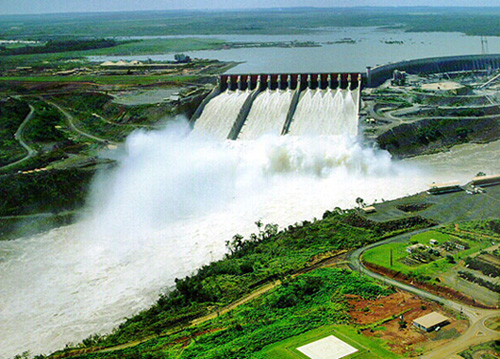 Photo: Itaipu Dam, Brazil
In this article lets review the 8 Latin American utility stocks that trade in the New York Stock Exchange. Brazil dominates this list with 4 stocks and Chile and Argentina have 2 stocks each.
People invest in utility stocks for their dividend yields. Unlike other sectors, utility stocks tend to provide some stability to a well diversified portfolio. Some would argue that this assumption may not be true these days due to many risky strategies followed by utilities. There are many risks to investing in emerging market utilities such as political risk, currency risk, interest rate risk, etc.So caution is warranted before picking up some of the stocks mentioned in this piece. For example, countries like Argentina have had their share of economic upheavals.
The table below lists the nine Latin American utilities with the Dividend Yields and Dividend Growth Rate(if available):
[TABLE=85]
Brief Summary of each stock:
1. Edenor (EDN) – Edenor is the largest electricity distributor in Argentina with a customer base of 7 million mostly in the northwestern and northern Buenos Aires metropolitan area. Edenor's customers are largely urban residential customers who have low delinquency rates in terms of bill payment.
Since its listing in April 2007, EDN stock has not performed well.The stock is down over 55% in the past 52 weeks. EDN has a market cap of about $441 M and it has not paid a dividend yet. On dividends, the2nd quarter earnings report says "Since the restructuring of the Company's financial debt referred to in Note 14, the Company is not
allowed to distribute dividends until April 24, 2008 or until such time when the Company's leverage ratio is lower than 2.5, whichever occurs first."
2. Metrogas (MGS) – This utility distributes natural gas to about 2.1 million customers in the Buenos Aires area. MGS has a market cap. of about $205M and the stock closed at $3.60 last Friday.The PE is about 37.06 and the company pays no regular dividend.
3.Companhia Paranaense de Energia (ELP) – ELP is an electricity producer and distributor in Brazil.
ELP has a dividend yield of just 1.04% and the PE is 6.69.In the past 5 years, the revenues have grown at an annual rate of about 15% and the annual dividend growth rate has been 24.57%.
4.Companhia Energetica de Minas Gerais -CEMIG (CIG) – CIG is another electric utility in Brazil but has interests in natural gas and telecom as well. It serves 17 million customers in the State of Minas Gerais. 51% of the company is owned by the State of Minas Gerais.
CIG has a dividend yield of 2.85% and a market cap. of $9.6B.A $1000 investment 5 years ago in the CIG ADR would have grown to $3,176.25 as of 9/5/08 including dividend reinvested.Thats a return of 221.37%. (Source: "Investment Simulator"
in the CIG corporate site. Date Range used: 9/5/2004 to 9/5/2008)
5.CPFL Energia (CPL) – CPL is a Brazilian electric utility.From the corporate site: "Operation in the States of Sao Paulo, Rio Grande do Sul, Parana and Minas Gerais, three major economic and industrial centers in Brazil."
CPL's dividend yield is 8.41%. CPFL Energia is a member of the Bovespa Index. The company has a policy of distributing a minimum of 50% of the net earnings (payout ratio) on a half-yearly basis.
6.SABESP (SBS): This company provides water and sewage services in the State of Sao Paulo, including the City of Sao Paulo. SBS has a dividend yield of 5.11% but is not paid on a regular basis. Total Revenue has increasing consistently in the past 5 years at a rate of about 9.65%.
7.Endesa-Empresa Nacional de Electricidad (EOC) : Endesa Chile is the largest electricity producer in Chile with operations in Bazil, Colombia, Peru and Argentina as well.
The dividend yield for EOC is 1.74%. Total revenue has grown at a rate of 12.20% in the past 5 years and the dividend growth at 27.20% annually. With 47 hydroelectric plants and operations in 5 countries EOC is a safer bet.
8.Enersis (ENI): Enersis S.A. (Enersis) is another electric utility in Chile. EOC discussed above is one of its subsidiaries. ENI has a dividend yield of 2.61% and a market cap of $10.5B.
Performance of Latin American utility Stocks Year-To-Date (YTD):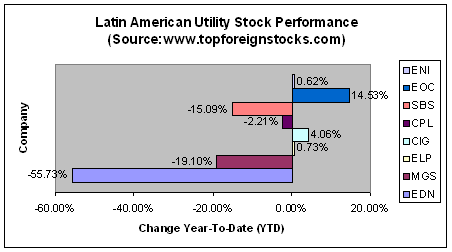 Conclusion:
The Latin American utility stocks may not be suitable for all class of investors due to the risks mentioned above and their dividend payment are not stable and consistent. For risk takers there a few more picks trading in the OTC market. But for an investor looking to gain some exposure to the Latin American emerging market utility sector the above table can a good starting point to dig into these companies.