Compania de Minas Buenaventura (BVN) and CreditCorp Ltd.(BAP) are two Peruvian ADRs trading in the NYSE.
1.Company: Compania de Minas Buenaventura (BVN)
Ticker: BVN
Country: Peru
Beta: 0.5
Buenaventura is one of Peru's public traded precious metal company with interests in mining gold, silver, copper,etc. The company is a major holder mining rights in Peru and was established in 1953. Revenues and EBITDA for the past 5 years has been increasing due to the incredible run in the commodity markets.
BVN stock split for 2:1 on July 23,2008. The dividend yield is just 0.74%.But most mining companies are growth companies not to be bought for dividend yields. Some don't even pay any dividends. Investing in commodity stocks especially mining stocks is extremely risky since prices can go sky high rapidly and collapse dramatically as well . So invest with caution.The stock is down over 25% from its 52 weeks high.
2.Company: CREDICORP LTD.
Ticker: BAP
Country: Peru
Yield:2.06%
Credicorp Ltd. is Peru's largest financial services holding company. The company operates in commercial banking , insurance and investment banking.
The PE ratio for BAP is 13.02 and the stock is down about 15% from 52 week high. BAP is a high beta stock (risk) with a beta of 1.1.
5 Years BAP Performance example:
Invested: $1,000 on 7/25/03
Closing Price: $9.73
# of Shares Today: 102.15
Current Value: $7,497.45
Growth: 649.74%
5 Years – BAP Vs. SP 500 Growth Comparison Chart: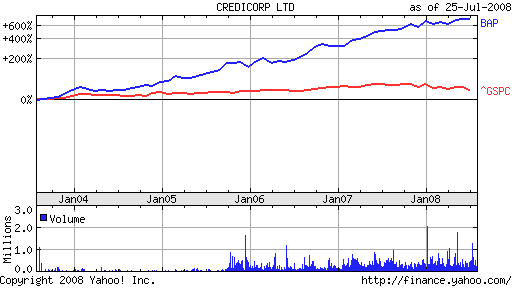 In recent months both Fitch and S&P have upgraded Peru's rating to investment grade.So anyone interested in adding a few aggressive picks to their portfolio can analyze the above two Peruvian stocks.
Related articles:
Gold Dividends: 11 Mining Stocks That Pay Them
Photo: Machu-Picchu, Peru