The Indian Stock Market has been on a downward draft for many months now. Sensex is the barometer of the stock market there.
Sensex 1 Year Chart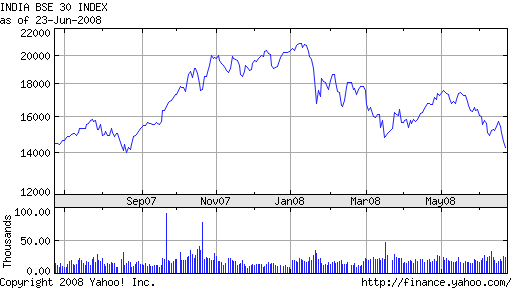 Today the Central Bank changed the monetary policy to contain the out-of-control inflation rate. Basically the bank raised interest rates for bank borrowings by 50 basis points to 8.5%. It also increased the reserves that banks have to keep by 50 basis points to 8.75. This is done in two steps with 0.25 on July 5 and another 0.25 on July 19. This is an strong policy change on part of the government to tackle inflation. Recently inflation crossed over 11%. Thats a staggering rate by any measure.
Last month the government raised fuel prices by 11% for gas and 9.4% for diesel to help government run oil companies reduce their heavy losses each day since they do not sell fuel at market prices. Interest rate hikes and fuel price increases are cooling off the economy. The Sensex touched another new low for the year today. Based on these and other factors, our suggestion to investors interested in the Indian story is to wait till next year.
Last year foreign investors pumped over $1B a month into the markets taking many stocks to sky high levels. These days they are taking out the same amounts at an incredible pace pulling down the market. Wall Street firms are liquidating their Indian investments to finance their capital issues here in the US.
So lets wait till the end of this year and see where the Indian market ends.
ETFs: The Complete List of India ETFs and ETNs Trading on the US Markets