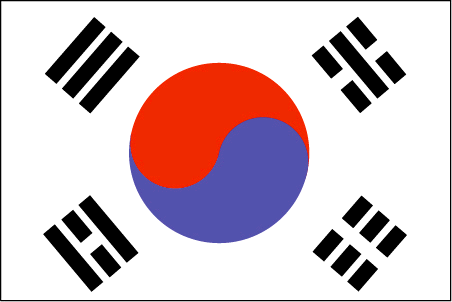 Introduction:
South Korea has one of the top emerging market economies in this world.In fact South Korea used to be called an "Asian Tiger" in the past when the country attained
exponential growth rates from 1960 to 1990s. Other Asian Tigers included Singapore,Taiwan and HongKong (now part of China).The country has a strong democratic government and South Koreans are hard-working well educated people.South Korea is home to many world class companies such as Samsung, LG, Hyundai,etc.
In fact, Fortune Magazine's Global 500 Companies list for 2007 has 14 South Korean firms in it.They are:
1. Samsung Electronics
2. LG
3. Hyundai Motor
4. SK
5. Korea Electric Power
6. Samsung Life Insurance
7. POSCO
8. Kookmin Bank
9. Hanwha
10. KT
11. Hyundai Heavy Industries
12. Samsung
13. SK Networks
14. S-oil
South Korea has many business conglomerates called the "Chaebol".Basically these
chaebols are powerful and control a wide variety of companies that are belong
to a particular chaebol.Some of the top chaebols are the Samsung, LG and Hyundai groups.
The South Korean Market has performed very well in the past few years gaining
11% in the past 12 months and a cool 91% in the past 3 years.
Recently South Korea has been tipped off to be good investment destinations
by two great investors of the world: Warren Buffet and Templeton's Mark Mobius.
Warren Buffet on South Korea:
From Warren Buffett tips South Korea article in This is Money
"At the Berkshire Hathaway gathering, when asked what he would do with a million dollars to invest, the world's most famous investor, dubbed the 'Sage of Omaha' Buffett replied: 'I could find better things to do with a million dollars probably in Korea than I could probably find in this market (the US).'"
He has affirmed his views on Berkshire Hathway's investment in POSCO, the giant steelmaker.
Mark Mobius on South Korea:
He says that the S.Korean currency WON is now cheap and that the South Korean
market willl outperform this year.
In a Bloomberg article titled Mobius Says Korean Stocks Will Outperform, Won Cheap
He said:
"Since 1997, Korea has actually outperformed emerging markets in general and I think that is going to continue, especially as a result of the kind of reforms that the government is instituting now".
South Korean ADRs Analysis:
The above discussions lead us to analyze investment opportunities in the ADR world for South Korea companies.
There are a total of 17 South Korean stocks trading in the US.The top 5 ADRs are
listed in the table below. The complete list is below at the end of this post.
Comparison of Top 5 South Korean ADRs:
[TABLE=42]
The full list of South Korean ADRs:
[TABLE=41]
Some other ways to invest in South Korea:
ishares Shouth Korea ETF – EWY
The Korea Fund – KF
The Korea Equity Fund – KEF

[tags]South Korean ADR,ADRs,Posco,Samsung,Kookmin[/tags]
Cheers!!