Food prices are increasing in all parts of the world. While the price increase in the US and other Western countries has been somewhat moderate to high, the hardest hit are the countries in the developing world. There seems to be many reasons for this dramatic rise.
The following are some facts from the BBC website:
"Price of rice has risen by 70% during the past year
Wheat price doubled in a year
Corn and soya trading well above 1990s averages
Factors include growing population and emerging economies like China and India
Environmental pressures also blamed"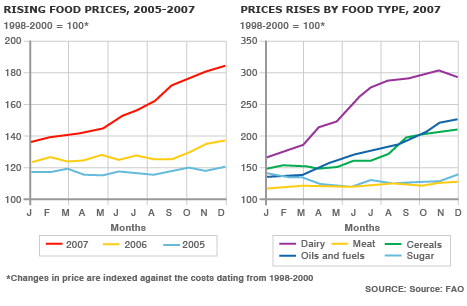 Source: http://news.bbc.co.uk
They have been running a series called "Food Price Crisis – The Cost of Food" which focuses on this critical issue. More information can be found in the following links:
http://news.bbc.co.uk/2/hi/7284196.stm
http://news.bbc.co.uk/2/hi/in_depth/world/2008/costoffood/default.stm
Some of the article titles from the BBC site such as
"Rice prices rattle restaurateurs,Rice prices 'to keep on rising',
Africa food price 'tsunami' fear,India introduces rice export ban ,
Food mob attacks Haiti palace "
show how this price increase affects many folks around the world.
Against this backdrop, no wonder all the agricultural related stocks like YARIY, AGU, etc. have skyrocketed in the past few months.
Fellow blogger "Confused Capitalist" reiterated his call "to make agriculture-related an important part of your portfolio" in article titled "Agricultural, it's all about the diet .."
Adding some food and beverage ADRs to your portfolio may be a good investment in these times. The following table lists most of the stocks in this sector:
[Table=26]