The S&P 500 Dividend Aristocrats measures the performance of companies that have increased for 25 consecutive years. Similar to these US Dividend Aristocrats there are many European firms that are consistent dividend growers. In this post, let us take a look at companies from Europe that have raised dividends for 20 years or more. For investors that are interested in the European Dividend Aristocrats, the S&P Europe 350® Dividend Aristocrats® measures the performance of companies in the S&P Europe 350 index that have increased the dividend payments for at least 10 consecutive years.
Click to enlarge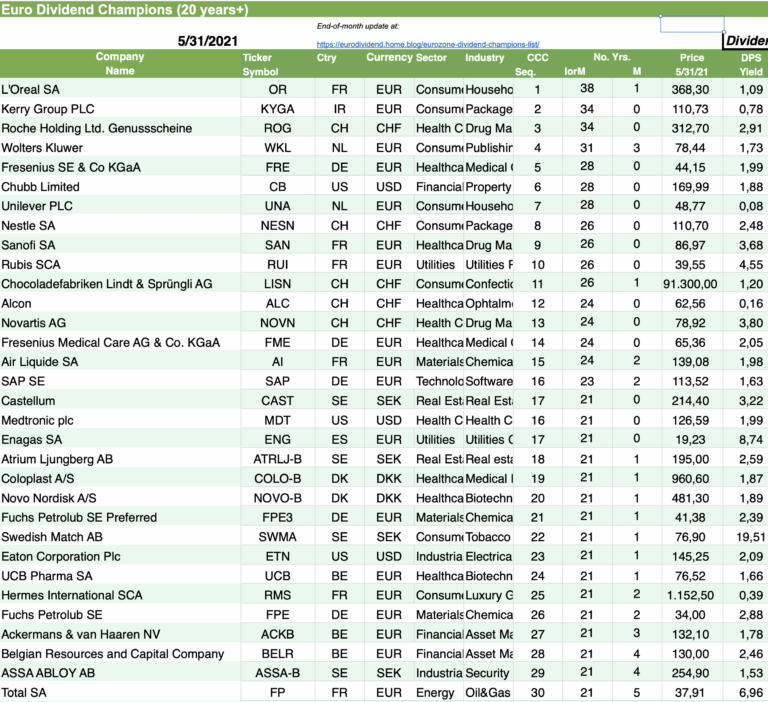 Source:DRIPInvesting.org via Tim Schaefer
A few observations:
France-based, cosmetic giant L'Oréal S.A. (LRLCY) has increased dividends for 38 years ! Currently the ADR has a market cap of over $255.0 billion and the stock has a dividend yield of 1.99%. L'Oreal stockholders that own the stock for more than two years can receive a 10% loyalty bonus dividend as well.
Swiss pharmaceutical leader Roche Holding AG (RHHBY) currently pays a 2.57% dividend. Roche has raised dividends for 34 years.
Other drug firms in the above list include Fresenius Medical Care AG & Co (FMS), Novartis AG (NVS) and Novo Nordisk A/S (NVO).
A Note on Dividend Withholding Tax:
Dividend withholding taxes for US residents will reduce the actual yield reported above. This tax for foreigners varies by county and can be as high as 35% in the case of Switzerland. The full list of rates by country can be found here.
Disclosure: No Positions