Coronavirus cases are exploding in the U.S. For the first time since the pandemic began, new cases exceeded 160,000 yesterday according to NY Times. For more than a week now average daily cases have crossed the 100,000 mark.
Covid-19 has killed 242,787 Americans so far and the total case count is over 10.6 million.
The situation is so bad in the country that the French aid organization Doctors Without Borders is now opening in the U.S. According to CNN's Dr.Sanjay Gupta:
 "Doctors Without Borders have come to the United States to do their work. They go to the hottest spots in the world, they look at the Earth and say where are we needed? Well, they're needed here in the United States right now."'
Usually DWB provides medical relief in some of the poorest and third world countries of the world. People in the US and other developed countries donate funds to this charity in order to help people in the worst spots of the world. So DWB operating in the richest country in the world is indeed shocking ! The even bigger sad thing is that scare resources that are desperately needed in other countries are now being spent by the DWB in the US because the country failed to take care of itself in spite of all the wealth.
Here is Dr.Gupta from another piece at CNN:
"This is a humanitarian disaster — probably one of the worst stories I've covered in my career here at CNN," the network's Chief Medical Correspondent Dr. Sanjay Gupta said Thursday.
With that brief update on the Coronavirus pandemic, below is an informative chart I recently came across. This chart shows the type of various day to-day activities that are low risk to high risk. Some of the high risk activities are going to a bar, working out at a gym, going to an amusement park, etc.
Click to enlarge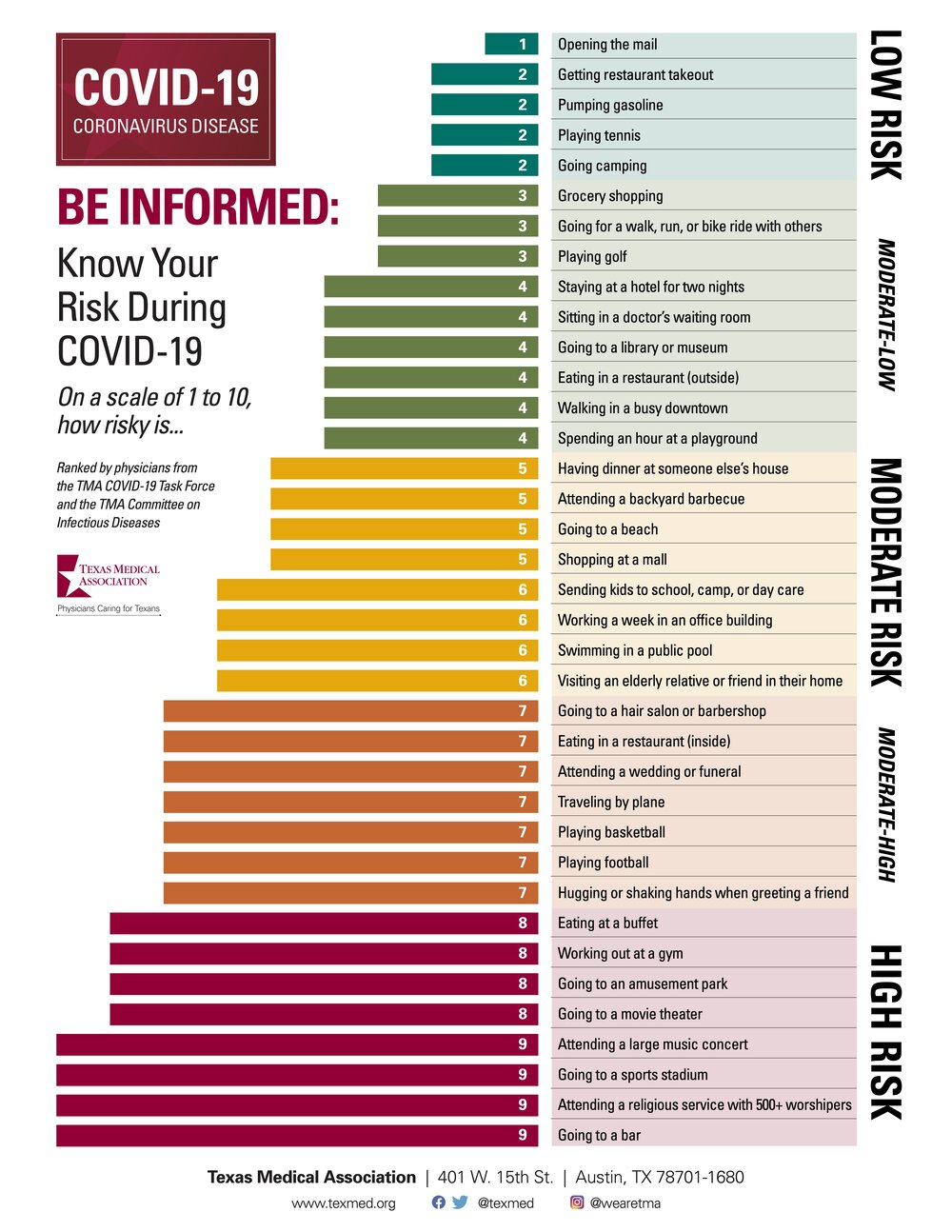 Source: Texas Medical Association (TMA)