India is known around the world as a powerhouse for software services. It may be surprising for some investors to learn that India is a global leader in the pharma industry also. Many of the cheap generic drugs that are sold in the US market are manufactured in India. Many years ago Israel used to be a major generic drug manufacturer. But competition has increased in this sector and today countries like India have become major exporters of generic drugs. Below is an excerpt from an article on India's pharma industry:
Indian Pharmaceuticals: A USD 55 billion market by 2020 and growing

India is a prominent and rapidly growing presence in global pharmaceuticals. Globally, the Indian pharmaceutical industry is the largest provider of generic medicines and ranks 3rd worldwide for production by volume and 13th by value; thereby, accounting for around 10% of the world's production by volume and 1.5% by value. According to the Department of Pharmaceuticals (DoP), India is the source of 60,000 generic brands and home to 3,000 pharma companies with a strong network of over 10,500 manufacturing facilities. The DoP aims to make the country a hub for end-to-end drug discovery under its 'Pharma Vision 2020'
Source: POST COVID-19: Challenges and Opportunities for the Indian Pharmaceutical Industry, Global Pharma Insights
According to European Pharmaceutical Review, India-based Lupin Pharmaceuticals and Sun Pharmaceuticals were among the top five global generic drug makers in the world.
The current coronavirus pandemic brings renewed attention to India's drug industry. India is poised to supply coronavirus vaccines to the world potentially saving millions of lives. For example, Serum Institute of India in Pune, India has an agreement to manufacture one billion doses of a vaccine currently developed by scientists at the University of Oxford, UK, and British pharma giant AstraZeneca (AZN).
With that brief intro on the Indian drug industry, let's take a quick look at The Top 15 Pharmaceutical Companies in India in the infographic below:
Click to enlarge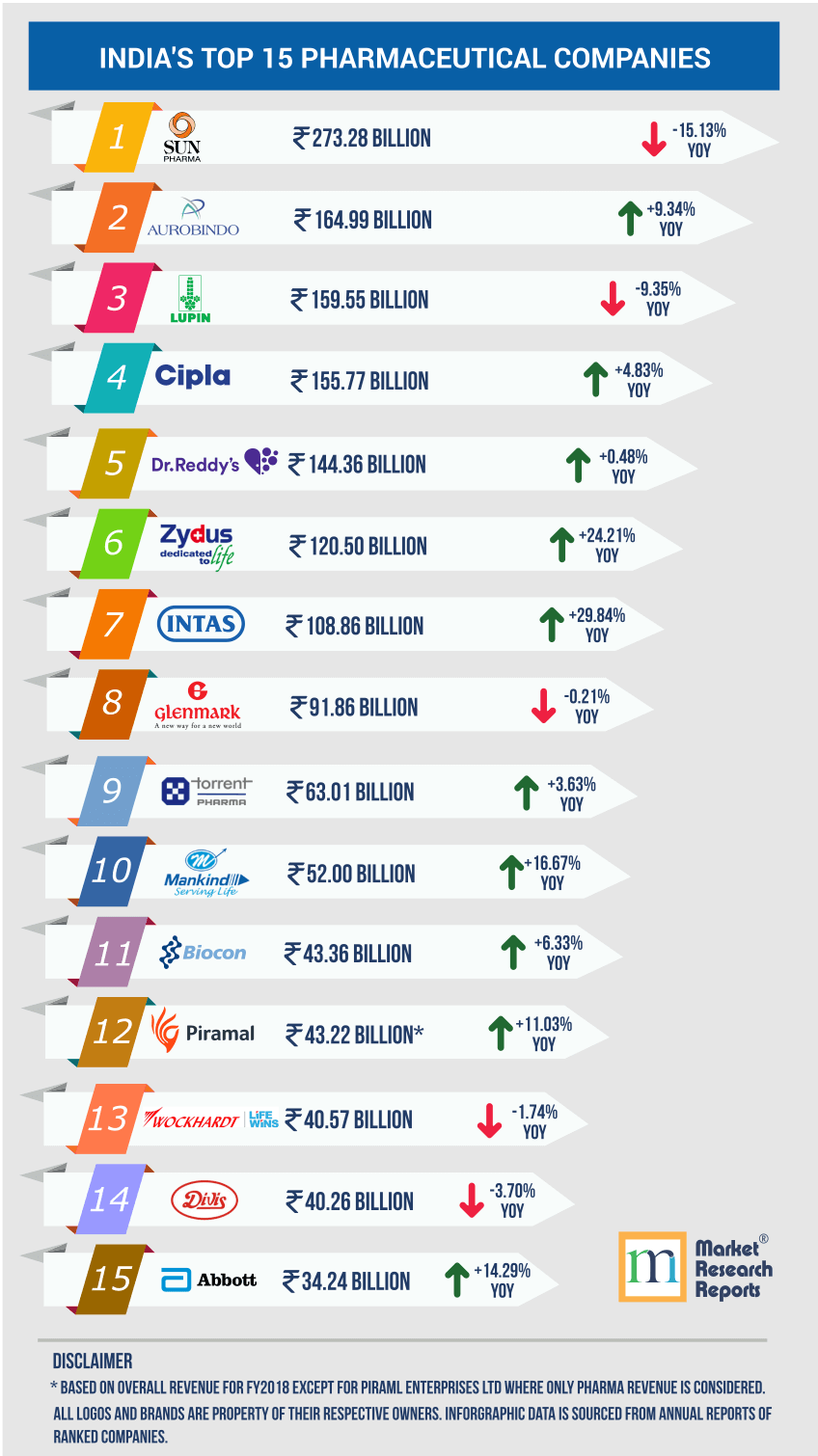 Note: The data shown are revenues in Fiscal Year 2018 and in Indian Rupees
Source: Market Research Reports
Of the firms listed above, Dr.Reddy's Laboratories Ltd (RDY) trades on the NYSE as an ADR. From about $40 a share in the beginning of the year RDY has soared to reach a 52-week high of over $73.
Related Companies:
Disclosure: No Positions