The S&P BSE SENSEX is the benchmark index of the Indian equity market. The index is up around 9% so far this year. In this post, let's take a quick look at the sector composition of Sensex.
According to S&P, the Sensex "is designed to measure the performance of the 30 largest, most liquid and financially sound companies across key sectors of the Indian economy that are listed at BSE Ltd.". The index was launched on Jan 1, 1986.
From a sector composition standpoint, the Sensex is highly concentrated with Finance accounting for 45% of the index. Though finance/banking traditionally is a major sector in emerging market indices, having a nearly 50% weightage is unusual even for an emerging market. The dominance of one sector at such levels is not a sign of a healthy market. Any disruption in the sector or collapse in banking stocks would have a dramatic influence on the direction of the index.
The following chart shows the sector breakdown of the S&P BSE SENSEX Index:
Click to enlarge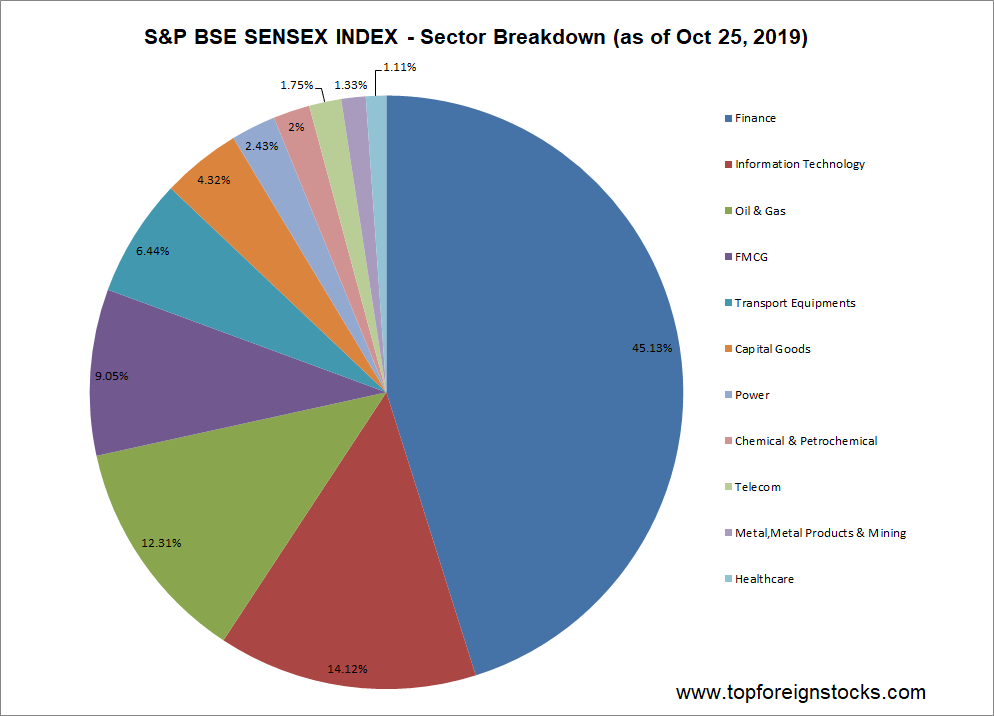 Source: BSE
The other major sectors by weight are Information Technology, Oil & Gas and FMCG (Fast-Moving Consumer Goods). Though India is a major software exporter, IT accounts for just 14%. Healthcare is hardly a significant sector in the Indian equity market as represented by the 1% allocation in the Sensex.
Download: Factsheet – S&P BSE SENSEX Index
Related ETF on the US market:
Disclosure: No Positions
Also checkout: The complete list of Indian ADRs trading on the US markets