Biotech stocks are the ultimate speculator stocks. Companies in this industry can soar to astonishing levels in a short period of time or vice versa. It is not uncommon for biotech equities to shoot up by 50% or 100% in a single day. Of course, they are also the other way around where these stocks can plummet even more in one day. We will look at some examples of biotech crashes in another post.
Yesterday Ascendis Pharma(ASND), a Danish biotech stocks listed on the NASDAQ took off like a rocket and ended the day with a gain of 74% as shown in the chart below:
Click to enlarge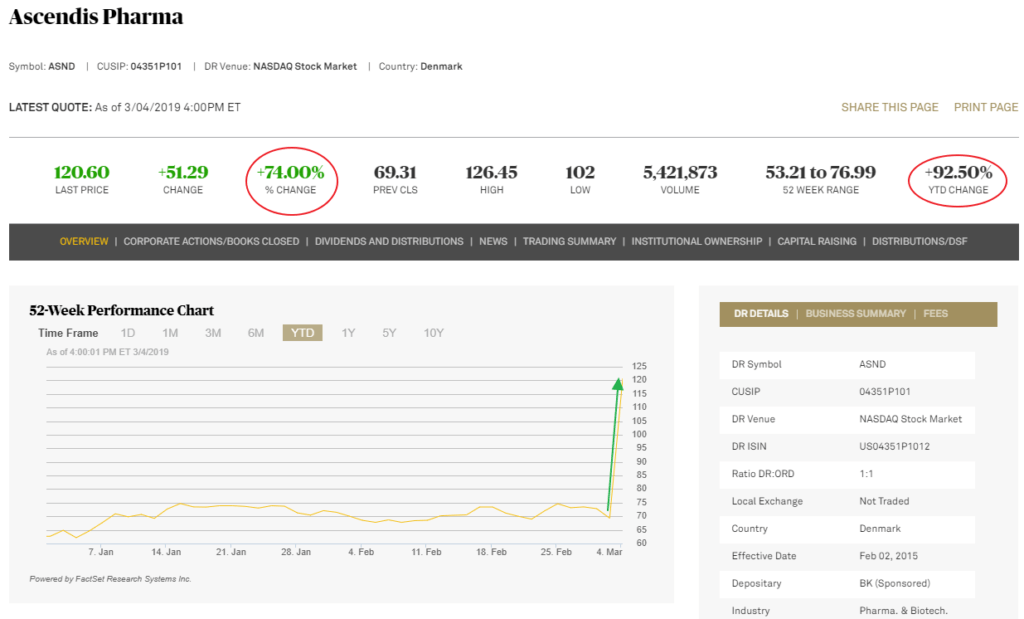 Source: BNY Mellon
What was the cause of this dramatic ride?
Ascendis shot up because investors cheered the positive trial results of  human growth hormone (HGH) replacement therapy drug TransCon HGH. This one piece of good news was enough to push the stock up 74% in one day.
After the market close the company announced a public offering of ADSs for $400 million. From the press release:
COPENHAGEN, Denmark, Mar 04, 2019 (GLOBE NEWSWIRE via COMTEX News Network) — Ascendis Pharma A/S (ASND), a biopharmaceutical company that utilizes its innovative TransCon(TM) technology to address unmet medical needs, today announced that it has commenced an underwritten public offering of $400,000,000 of American Depositary Shares ('ADSs'), each of which represents one ordinary share of Ascendis. All of the ADSs are being offered by Ascendis. In addition, Ascendis expects to grant the underwriters a 30-day option to purchase up to an additional $60,000,000 of ADSs at the public offering price, less the underwriting commissions. The offering is subject to market and other conditions, and there can be no assurance as to whether or when the offering may be completed, or as to the actual size or terms of the offering.
Disclosure: No positions