The Indian equity market is on fire with the benchmark BSE Sensex index reaching a new record high yesterday. The index rose 352 points or 0.95% to reach 37,336. Sustained capital inflows and India's insulated economy from the impacts of Trump's trade wars are fueling the surge in stocks. In dollar terms, the Sensex is up by 9.6% YTD.
The chart below shows the 5-year return of the Sensex: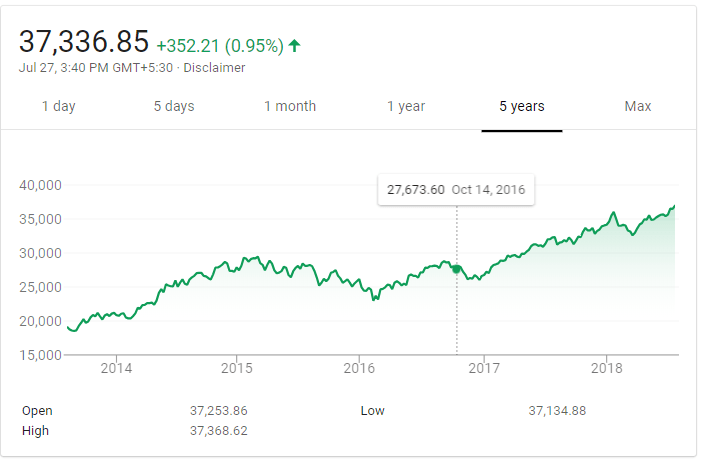 The chart below shows the long-term return of the Sensex: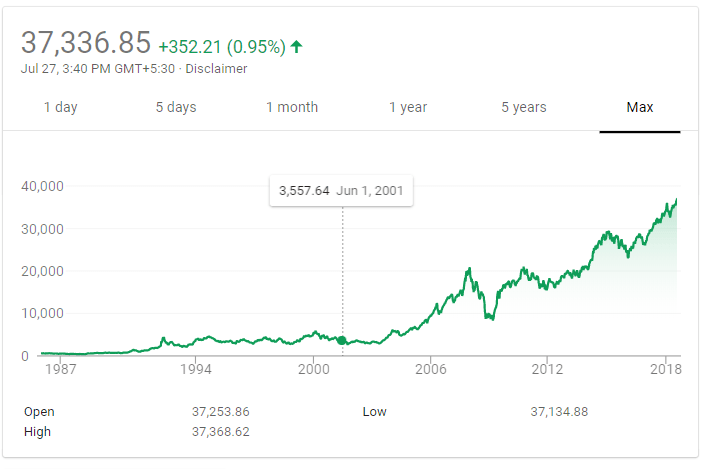 Source: Google Finance
From a recent journal article:
Analysts point to several reasons for the rally. For a start, India is booming, even as neighboring China shows signs of slowing, and was the fastest-growing big economy in the first three months of 2018. All else being equal, solid growth bodes well for corporate earnings, and tends to send shares higher.

In fact, per-share earnings for companies in MSCI's India index should rise 28% in 2018, far outpacing the roughly 15% growth for emerging markets in Asia as a whole, said Ben Luk, a global macro strategist at State Street Global Markets. It helps that net profits last year were rather lackluster, especially for financial firms, he said.

In addition, millions of Indians are pouring money into shares for the first time. That has supported stock prices even as overseas buyers, who own roughly a quarter of the market, have grown more cautious. Locals added roughly $800 million in new positions this month, overwhelming the $44 million sold by foreigners.

Unlike rivals in Tokyo and Shanghai, for example, which experienced previous huge rallies, peaking in 1989 and 2007 respectively, it is also comparatively easy for this market to break new ground.

Moreover, India is comparatively less exposed to changes in U.S. trade policy. The U.S. -China spat has rippled through Asia, hurting companies that rely on cross-border trade.
Source:Indian Shares Set Records, WSJ
The soaring Sensex has been powered by a handful of stocks and some analysts are remain cautious. From an article at First Post:
The Sensex hit dizzying heights, reaching the 37,000-level for the first time on Thursday on widespread buying in capital goods, FMCG, realty and banking stocks by domestic institutional investors. The benchmark index also gained on positive global cues.

The NSE Nifty too scaled a new peak of 11,172.20 points.

Stock market analysts are optimistic and told Firstpost that the Sensex and the Nifty will peak further. Analysts said that by Diwali, the Sensex could touch 38,000 points and the Nifty could hit the 11,500 points milestone. However, they cautioned that though the indices are on a high, and have logged an upward momentum over the past few days, the upbeat sentiment is reflected in only the top 10-12 stocks on the Bombay Stock Exchange. The mid-caps and small caps are still low, they said.
Source: Sensex at record high of 37,000 is just an illusion; rally led by just top 10 stocks, say analysts. FirstPost
In addition, the market capitalization of India equity market has actually dropped by 8.44% in dollar terms in 2018.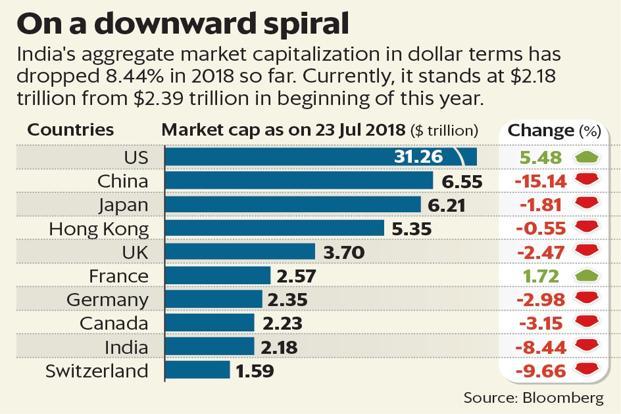 Source: Indices at record highs but India's market cap down over 8% in 2018. Live Mint
Related ETFs:
WisdomTree India Earnings (EPI)
iShares S&P India Nifty 50 Index Fund(INDY)
PowerShares India ETF (PIN)
Disclosure: No Positions