The presidential election in November will decide the winner of the highest office in the land. The US President is often depicted as the single most powerful human being on the planet. He is often considered to have God-like powers to do almost anything he desires. Hollywood  and the media has created a myth that the person occupying The White House can battle aliens, vampires, evil-doers,  ghosts and any other forms of home invaders. In reality, the US President's powers are restricted due to the concept called checks and balances. Basically the President can do certain things without asking for approval from anyone such as the Congress. For example, the President can launch a war on a foreign country without the approval of congress or secretly authorize the elimination of foreign leader without asking anyone including the Congress. There are a few other powers that US presidents have such as the power to pardon someone after being convicted of a crime, withdraw from global treaties such as Anti-Ballistic Missile Treaty, etc.
In a nutshell, the President is neither toothless nor omnipotent. Or put it another way, he is not a puppet or a dictator.
Similarly from an economic perspective also, the Presidents powers are limited. So investors need to focus on fundamentals of a company, economic factors and other factors that they normally use to evaluate an investment. They should not simply focus on who is going to the next US President.
The below chart shows the US economic growth during various Presidential terms from 1945:
Click to enlarge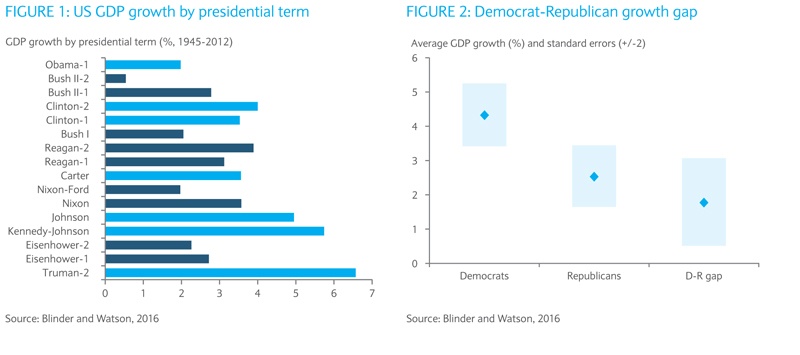 Contrary to popular belief, the US economy has performed well under Democratic presidents than Republicans during the period show above. The average growth rate under Democrats and Republican presidents were 4.3% and 2.5% respectively.
Source: The end of the empire?, Compass Q4 2016, Barclays
The key takeaway is that all the drama about the US elections is simply noise for an equity investor. Instead of worrying about who is going to be winner they must make their investment decisions based on fundamental factors.