GDP per capita is usually the popular measure to rank rich and poor countries. However using GDP as the main factor has many flaws. For instance, GDP disregards income levels in a country and a GDP is skewed in some cases where the government accounts for most the GDP.  In countries where the state is the main player in the economy individual wealth or private wealth creation and ownership is more important than looking at government created GDP figures. Recently I came across an interesting report by South Africa-based research company New World Wealth ranking countries based on wealth and not GDP.
The Top 10 Countries Based On Per Capita Wealth are:
Click to enlarge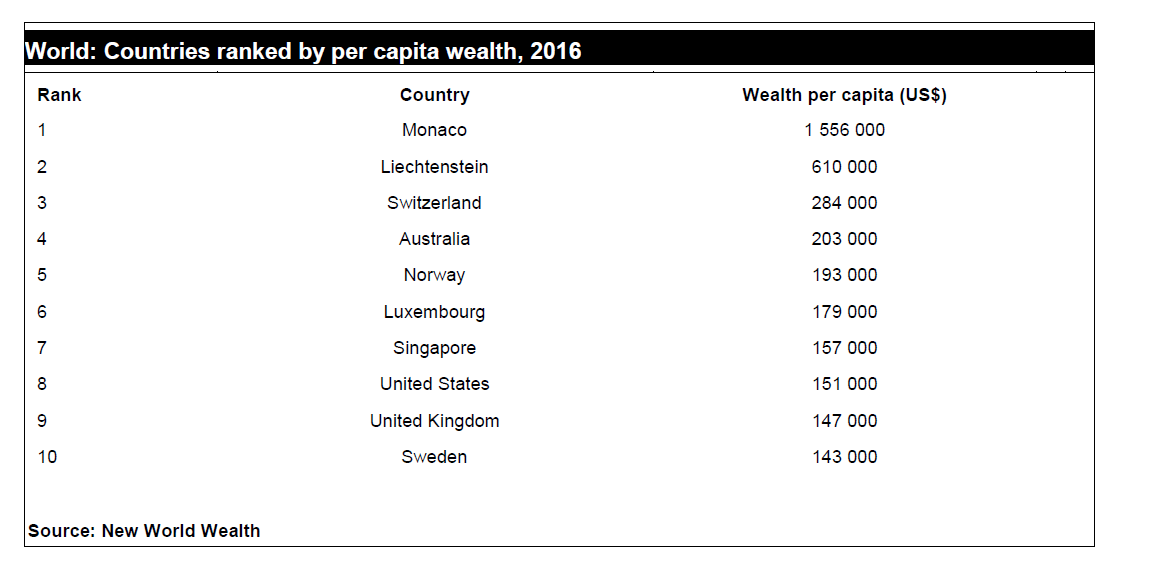 "Sources & Methodology:
How do we calculate average wealth?
Source used include:
Income distribution stats in each country.
Stock exchange statistics in each country.
Residential property market statistics in each country.
Wealth data from our HNWI database."
Source: New World Wealth
A few observations:
Monaco and Liechtenstein top the list with a wealth per capita of $1.5 million and $610K because they are tax havens preferred by wealthy people from around the world to stash wealth. Monaco on the French Rivera is the playground of the rich and famous to flaunt their wealth.
According to the report, the UK is on this ranking due to the high real estate wealth in the country. London is one of the major world-class cities and attracts the global wealthy many of whom dominate the real estate market forcing local residents to farther suburbs.
The US has a wealth per capita of $151K. At a country level it is true based on the sources and methodology noted above. It does not mean all Americans own on a average $151K in wealth. Millions of Americans live in poverty and much of the middle class do not wealth any meaningful wealth. However the country is home to the largest number of billionaires and millionaires in the world who control much of the private wealth. So at a country level the per capita figure comes to $151K.