The CAC-40 Index, the benchmark index for the French equity market is down 4.4% year-to-date. In the past 10 years, the index is still in the negative with a loss of around 11%.
Overall on a average French stocks have yielded a positive return over many years. Since dividends account for a high portion of total returns in the French equity market it is important to review the total return and not the price return.
The following chart shows CAC-40 total returns by year since its inception in 1988 thru 2015:
Click to enlarge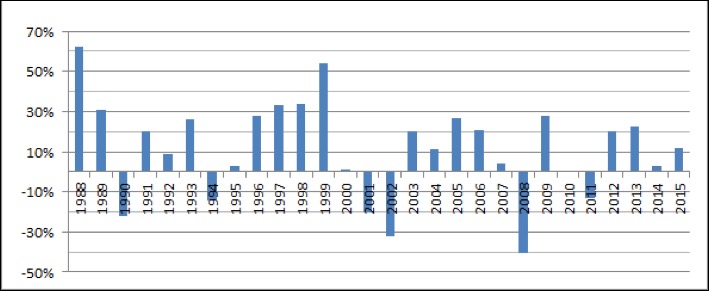 Source:Why share they rise in the long term? (Google's French translation), Yomoni
According to the article, French stocks as measured by the CAC-40 have gained an average of 8.5% since 1986, an average of 5-6% more than government bonds. Clearly 8.5% return per year is solid. However the returns are not evenly distributed as shown above. Hence the key to success in equity investing is to hold stocks for the long-term and let factors such as dividend reinvesting multiply the returns over many years.
Related ETF:
iShares MSCI France ETF (EWQ)
Disclosure: No Positions