U.S. investors looking for income stocks should consider adding foreign stocks. One of the important reason to go overseas for dividends is that foreign stocks generally tend to have higher dividend yields than US stocks.Despite dividend withholding taxes it is possible to generate a better return from foreign stocks.
Among the developed economies, the US is one of the few countries where companies tend to have low dividend payout ratios.The following chart shows the average dividend yields in G-20 economies:
Click to enlarge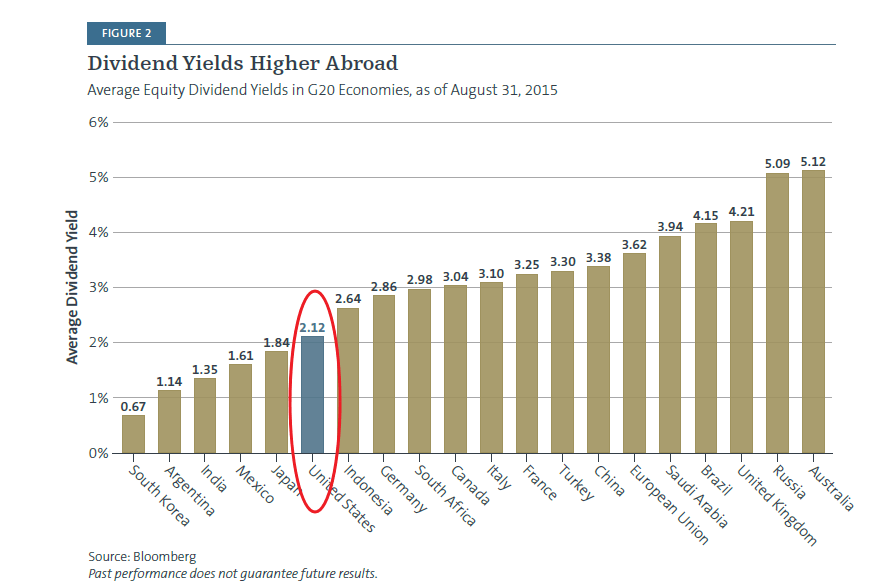 Source: The Dividend Signal: Uncovering Global Growth Opportunities,  Forward Management
Five stocks from five of the countries shown above are listed below with their current dividend yields for consideration:
1.Company: Telstra Corp Ltd (TLSYY)
Current Dividend Yield: 5.48%
Sector:Telecom
Country:  Australia
2.Company: National Grid PLC (NGG)
Current Dividend Yield: 4.79%
Sector: Multi-Utilities
Country: UK
3.Company: Standard Bank Group Limited (SGBLY)
Current Dividend Yield: 4.56%
Sector: Banking
Country: South Africa
4.Company: Royal Bank of Canada (RY)
Current Dividend Yield: 4.17%
Sector: Banking
Country: Canada
5.Company:Telenor ASA (TELNY)
Current Dividend Yield: 2.43%
Sector: Telecom
Country: Norway
Note: Dividend yields noted above are as of Oct 9, 2015. Data is known to be accurate from sources used.Please use your own due diligence before making any investment decisions.
Disclosure: Long RY