Every year Fortune magazine publishes its annual list of Fortune 500 companies which is a compilation of the largest publicly-traded US firms. This year's list was released last month.
Fortune noted the following fascinating fact about these firms:
This year's Fortune 500 marks the 61st running of the list. In total, the Fortune 500 companies account for $12.5 trillion in revenues, $945 billion in profits, $17 trillion in market value and employ 26.8 million people worldwide.
Alan Murray,Editor of the magazine wrote an accompanying article titled "5 things you didn't know about the Fortune 500"  offering some insights into the Fortune 500. According to him, despite the growth of Silicon Valley and start-up companies, the mega corporations of the U.S. as represented in the Fortune 500 dominate the U.S. economy and their clout is growing as shown in the chart below:
Click to enlarge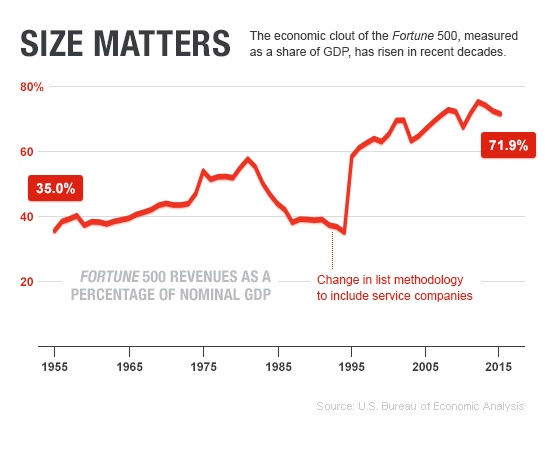 Source: 5 things you didn't know about the Fortune 500, Fortune
From Alan's piece:
But here's a fact: Fortune 500 companies had revenues last year that equaled 71.9% of U.S. GDP—up from 58.4% two decades ago, and 35% in 1955. To be sure, much of that revenue comes from overseas operations. But these companies are still the guts of the U.S., and the global, economy. (emphasis mine)
So though small businesses and start-ups are considered as important for economic growth, in reality the big companies bring in most of the revenues. Most of the start-up companies that are started backed by venture capitalists will disappear in a few years one way or other. They will either acquired by one of the bigger companies or they end up as failures. Successful hi-tech companies like Google(GOOG), Facebook(FB), Netflix(NFLX), Apple (AAPL), etc. are very rare. In fact, social media firms Facebook and Twitter may disappear sooner as they are not nothing but simply a website and they don't produce anything.
From an investment perspective, it is important to take note of the power of the Global 500 in the US and even the global economy and pick investment options accordingly.
Disclosure: No Positions