In October of last year the European Banking Authority published the results of its stress test results of European banks. Most of the banks studied by the agency passed the test with only 13 identified to need extra capital including  Banca Monte dei Paschi di Siena SpA of Italy, National Bank of Greece(NBG). From a Journal article in October:
The European Central Bank and the European Banking Authority announced the results of a nearly yearlong effort to assess the finances of 150 banks, identifying 13 that still need to come up with a total of €9.5 billion ($12 billion) in extra capital.

Overall, 25 banks technically failed the so-called stress tests, facing a cumulative shortfall of €24.6 billion. But most have already taken steps to solve their problems since the end of 2013, the cutoff date for the exercise.

To pass the tests, banks had to show that they had ample capital to survive a crisis that would cause Europe's economy to fall 7% below current forecasts and the unemployment rate to rise to 13%.
Source: ECB Says Most Banks Are Healthy, Oct 27, 2014, WSJ
The U.S. Federal Reserve published its first stress test results of major banks this past Thursday. Overall the results were positive with all the banks studied having enough capital to survive a crisis. From a Journal article:
The overall results Thursday buttress regulators' view that the financial system is safer than before the recent recession, in large part because of loss-absorbing capital built up ahead of the annual test.

The Fed said the 31 banks' aggregate Tier 1 common capital ratio, which shows high-quality capital as a percentage of risk-weighted assets, dipped as low as 8.2% under the stressful scenario, well above the 5.5% level measured in early 2009 and the 5% level the Fed considers a minimum allowance.

The results could bolster big banks' push to return more of their income to restless shareholders after years of conservative payouts.
The Tier 1 Common Ratio of Large U.S. Banks is shown below:
Click to enlarge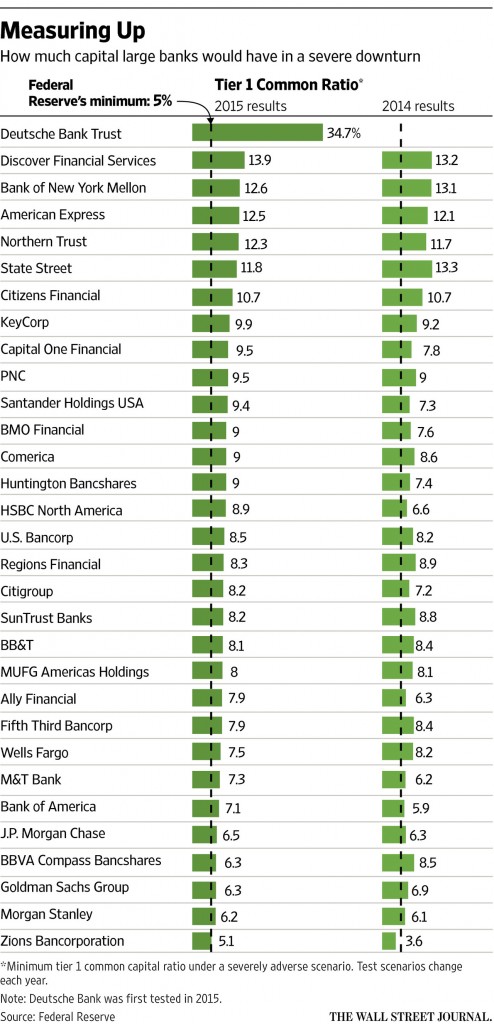 Source: Fed Stress Tests Find Banks Adequately Capitalized, Mar 5, 2015, The Wall Street Journal
The Tier 1 Common Ratio measures the capital adequacy of a bank. The higher the ratio the better the position of the bank in case of surviving a financial crisis.
Some financial institutions such as Discover Financial Services(DFS), Bank of New York Mellon(BK), etc. have substantially higher Tier1 Common Ratio than the minimum required by the Federal Reserve. The smaller Zions Bancorporation(ZION) barely passed the test.
Disclosure: USB, FITB and BBT