Frontier markets refer to all markets that are not developed or emerging. These markets include places like Ecuador, Nigeria, Namibia, Iran, etc. The following map shows the countries that are considered as frontier markets by the global investment community:
Click to enlarge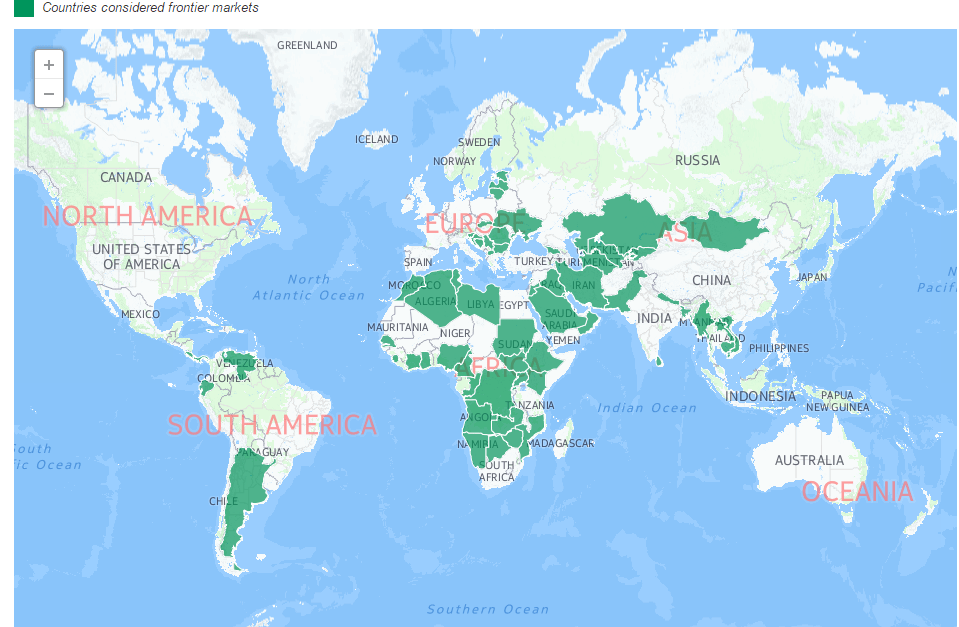 Source: WSJ Graphics
According to a research report by Ben Garland and Kelvin Dell of Blackrock, index providers classify countries as developed, emerging or frontier  based on three factors: economic development, market size and liquidity and accessibility to international investors. Frontier markets are characterized by the lowest of these factors relative to the developed and emerging equity markets.
The frontier universe is comprised of 40 countries. However the assignment of a market as frontier differs between the index providers as the  table below shows:
Click to enlarge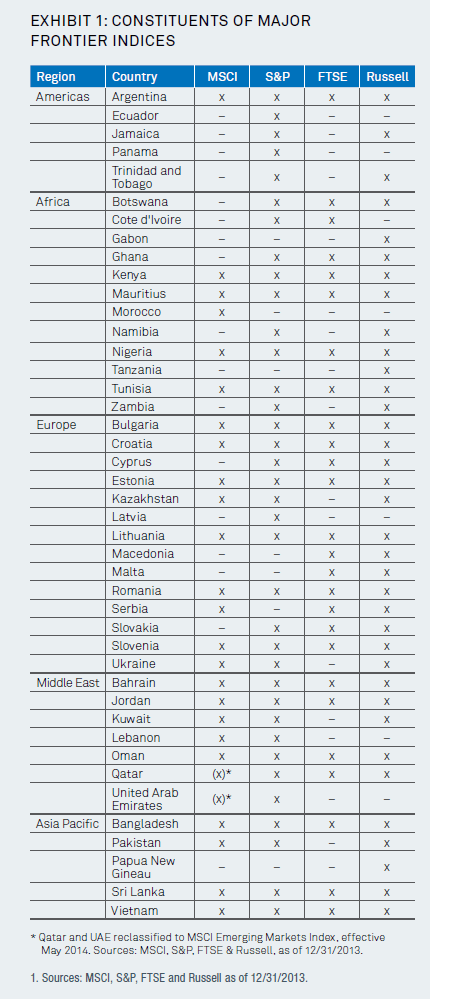 Source:  Crossing the Frontier, Blackrock
NOTE: In Septmeber 2014, FTSE downgraded Morocco from "secondary emerging market" to frontier market status and excluded Argentina from the Frontier Markets index.
Among the four index providers the index by MSCI is the most widely used.In May 2014, MSCI upgraded Qatar and UAE to emerging market status. After this reclassification the regional allocation of the index looks like shown below: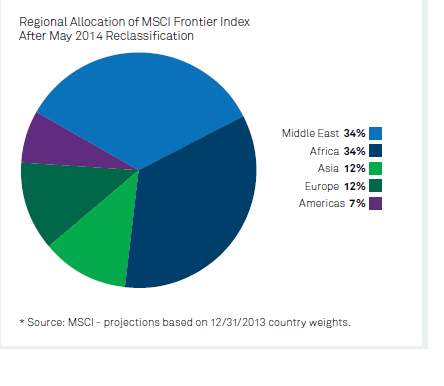 At a global level frontier markets are tiny in terms of global market capitalization.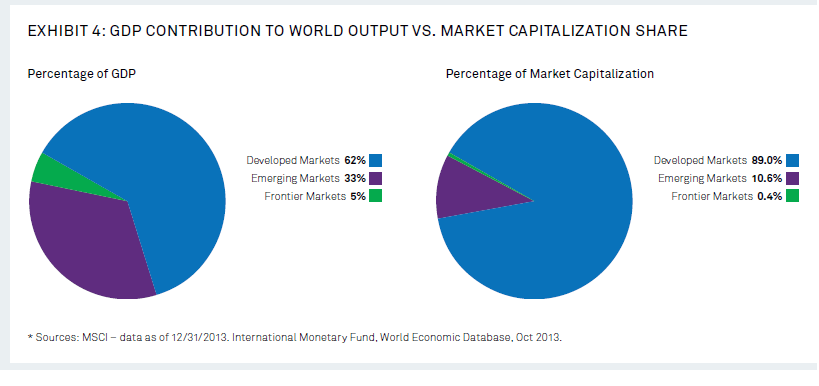 The main competition to the MSCI index is the index created by FTSE. For example, in 2013 Vanguard switched their benchmark indices from MSCI to FTSE. I wrote an article comparing the key differences between MSCI and FTSE indices at that time.
Below are some of the differences and a few similarities between the MSCI Frontier Markets Index and FTSE Frontier Markets Index:
The MSCI index has 26 countries in the index but FTSE has only 24. Both the indices give big weightage to Nigeria and middle eastern markets.
Despite a high standard of living and a GDP per capita of $48,000 in 2013, Kuwait is assigned the frontier market status by both MSCI and FTSE because of strict foreign ownership limits in Kuwaiti companies and underdeveloped operational infrastructure.
The evolving markets of Vietnam and Bangladesh are both included in the MSCI and FTSE indices.
Natural resources plays a major in many of the frontier markets. For instance, Nigeria is a major oil producer, Argentina is a major food producer, Ukraine producers iron ore, Zambia is a major copper producer and Vietnam is a leading coffee exporter.
With respect to small economies, the FTSE Index includes countries such as Bulgaria, Botswana, Cyprus and Macedonia while the MSCI Index includes Kuwait, Morocco, Lebanon and Ukraine.
The top 10 markets in the FTSE index is dominated by Nigerian and Qatari companies while the top 10 of the MSCI index is concentrated in Nigerian and Kuwaiti firms.
The selection criteria between MSCI and FTSE varies. From an article in The Wall Street Journal: " The differences between the two company's country choices are primarily the result of the selection criteria they use. MSCI considers a country's accessibility for international investors, the liquidity of its market and its economic growth. In FTSE's case, for a country to be classified as frontier it needs to meet some crucial points: a formal stock market, few restrictions on capital repatriation and low occurrence of failed trades."
Sources:
FTSE's New Frontier Indices Take Aim at MSCI Standard, Sept 11, 2014,  The Wall Street Journal
New FTSE Frontier Markets Index is not very good, here is why, Sept 18, 2014, Investment Frontier
Related ETFs:
Disclosure: No Positions