The S&P 500 and Dow Jones closed at all-time records of 2,078 and 17,959 respectively yesterday.However this is the fifth recovery this year for the S&P 500 according to an article in Bloomberg.
From the article:
Today's gains in the S&P 500 completed the fifth recovery this year from a decline of 4 percent or more, just 17 days after it started. In comparable drops beginning in January, April, July and September, the S&P 500 needed about a month to erase losses, data compiled by Bloomberg show.

This is the 50th time this year the S&P 500 has closed at an all-time high, while the Dow has done it 35 times. The S&P 500 reached records on 45 occasions in 2013, as the index recovered from the financial crisis to top its previous high from October 2007 for the first time.

The latest rebound gives the S&P 500 a gain of 5.4 percent for the month so far. The index has advanced in each of the past six Decembers, climbing an average 2.2 percent.
Source: S&P 500 Climbs to Record After 3-Day Rally on Surge in Tech Shares, Dec 22, 2014 Bloomberg
To put the S&P figure in perspective, the index reached a low of 666 in March 2009 during the peak of the Global Financial Crisis.It has more than tripled from that trough.While for most of the investors it does not feel like a bull market obviously this is a bull market.However unlike a "normal" bull market it has not been a smooth sailing for equity markets during this current run up. Since 2010, investors have had to experience gut-wrenching market corrections almost every year with one geo-political risk after another taking center stage as the chart below shows. Despite all the corrections the equity market continues to soar higher. The recent crash in oil prices also seems unlikely to reverse the upward trend.
Click to enlarge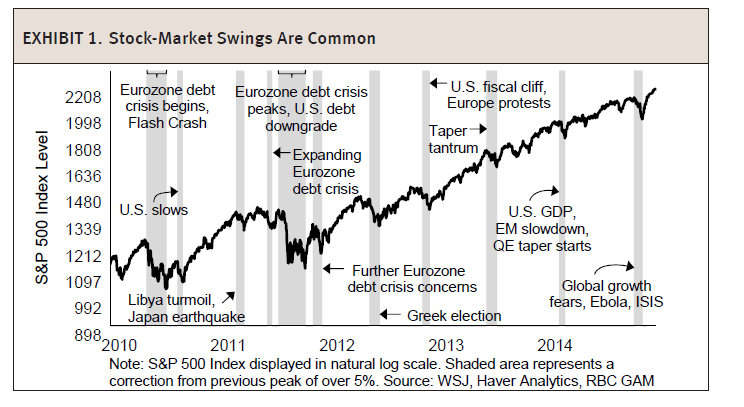 Source: Global Investment Outlook, New Year 2015, RBC Global Asset Management Inc
The key takeaway for investors is that markets always go higher despite short-term volatility. So investors have to invest for the long-term by holding high-quality stocks that can withstand risks.
Related ETFs:
Disclosure: No Positions
Updates: