Spain was one of the hardest hit economies during the global financial crisis and the following European sovereign debt crises. Before the crises the Spanish economy grew rapidly over many years attracting international investors. As a result of the crises,  the economy tanked primarily due to the bursting of the once red-hot real estate industry.The country was saturated with "white ghost" infrastructure projects like massive airports with no flights, unsold residential apartments and condos, etc. Not surprisingly investors fled Spanish stocks.
After years of low growth the Spanish economy finally seemed to have turned a corner. Last year the benchmark IBEX index rose over 21%. It is up by 3.80% year-to-date, the best among major European indices. On the other hand the S&P 500 is mostly flat YTD.
From a recent Reuters article on Spanish equities:
By contrast, Spain's service sector registered its fastest pace of growth in six-and-a-half years in December, fuelling optimism the economy could expand more than expected in 2014.

Spain and Italy – another economy dubbed as a "peripheral" European market compared to the "core" of Germany and France – are slowly recovering from the euro zone's sovereign debt crisis, and the rise in the IBEX also lifted Milan's FTSE MIB stock market by 0.6 percent.

Some traders and investors feel there is more value in those "peripheral" markets than the likes of France or Germany, with the German DAX equity index having already hit record highs.

"There's a real swing in momentum towards economies such as Spain," said Scott Meech, co-head of European equities at Union Bancaire Privee (UBP).

Meech's favoured Spanish stocks include Spanish bank Bankinter, insurer Mapfre and media company Mediaset.
Source: Spanish stock market outperforms weak European bourses, Reuters
The following chart shows the 5-year performance of the STOXX Spain 20 Index which is comprised of the 20 largest blue-chip Spanish firms:
Click to enlarge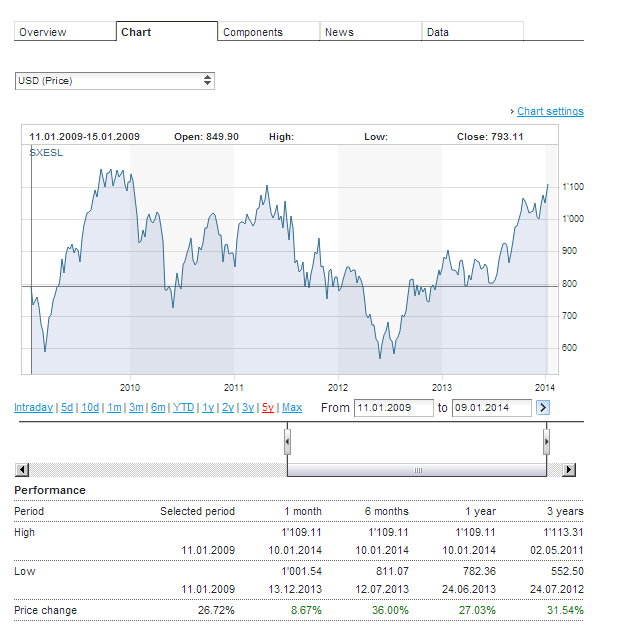 Note: The returns shown are in US dollar(price) terms.
Source: STOXX
It is interesting that while in the past five years the STOXX Spain 20 Index is up by about 27%  in the past one year alone it has increased 27%. The chart is showing an upward trend since 2012.
From an investment standpoint, Spanish stocks are looking attractive now given the improving economic situation and the changing perception of global investors. Though stock prices were much cheaper last year it is still not to late to buy them at these prices. Spanish stocks currently have a dividend yield of 3.9% and a P/E ratio of 19.8 relative to US stocks' yield of 1.9% and P/E of 19.7 according to the latest FT market data.
Five Spanish firms trading on the US markets are listed below with their current dividend yields:
1.Company: Banco Santander SA (SAN)
Current Dividend Yield: 8.80%
Sector: Banking
2.Company: Telefonica SA (TEF)
Current Dividend Yield: 2.29%
Sector: Telecom
3.Company: Iberdrola SA (IBDRY)
Current Dividend Yield: 0.61%
Sector: Electric Utilities
4.Company: Gas Natural SDG SA(GASNY)
Current Dividend Yield:
Sector: Natural gas and electric utilities
5.Company: Repsol SA (REPYY)
Current Dividend Yield: 3.14%
Sector: Oil, Gas & Consumable Fuels
Note: Dividend yields noted above are as of Jan 10, 2014. Data is known to be accurate from sources used.Please use your own due diligence before making any investment decisions.
The iShares MSCI Spain Capped ETF(EWP) gives exposure to top Spanish companies.There are 24 firms in the portfolio with the top 10 accounting for about 72% of the fund.Over 44% of the fund is  invested in Banco Santander(SAN), Banco Bilbao Vizcaya Argentaria(BBVA) and Telefonica (TEF).The ETF has about $982 million in assets and the 12-month yield is 2.86%.
Disclosure: Long SAN, BBVA