The Indian stock market is on a roll with the benchmark Sensex reaching a record high of 21,239 on Nov 3rd in a special trading session celebrating the Diwali festival. The index is up just over 9% year-to-date in local currency terms.
When compared to the performance of developed markets the Sensex return is not that great since most of developed markets are up by double digits this year.Among the BRIC countries, China's Shanghai Composite is down 5.3% and Brazil's Bovespa is off by 11.4% YTD. The S&P 500 has shot up by 23.5% in price terms YTD.
Click to enlarge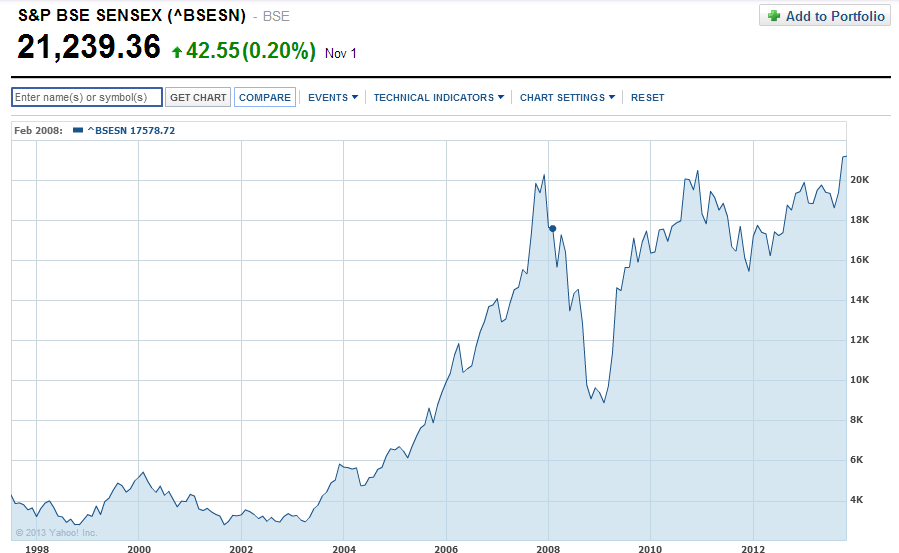 Source: Yahoo Finance
Despite the strong rally global investors may want to wait till the beginning of next year to initiate new positions in Indian equities.Some of the reasons for this wait and watch approach are listed below:
Much of the gains in Indian stocks has been due to the $31.0 billion or more pumped into the markets by 

Foreign Institutional Investors (FIIs).

Domestic retail investor participation in the equity market is still very low. So this rally may not last long should FIIs pull out their funds any day.

The Indian Rupee remains weak and has lost about 12% against the US dollar. So when the Sensex return is considered in US dollars foreign investors have actually earned a negative return.

Much-needed economic reforms have pretty much stalled due to bickering among political parties.

Corporate earnings have been average or even lower than last year. Hence the run up in share prices is not fully
justified by earnings growth.
On the positive side, India's Central Bank is now run by Raghuram Rajan, a former chief economist of the International Monetary Fund and a University of Chicago professor and a supporter of free market policies.In addition, certain parts of the economy such as the export-oriented IT, banking, consumer sectors remain strong. So investors can still believe in the the Indian growth story. But due to the elevated valuations of stocks and other reasons mentioned above, they can monitor the equity market over the next two months and consider investing in January of next year.
Related ETFs :
Disclosure: No Positions
Related:
A Sensex gone awry (The Hindu)