Brazilian stocks have been laggards so far this year. Compared the S&P 500's rise of 14.0% as of May 7th the Bovespa is down 7.7%.  Investors' attraction towards Brazil has waned in the past few years due mainly due to political reasons. As an emerging market with plenty of growth potential Brazilian stocks look attractive at current levels. While mining and commodity-based stocks can be avoided other sectors such as construction, financial services, retail, consumer goods, etc. can be considered for investment. A recent article in The Wall Street Journal noted the positive views of some investors on Brazil. From the article:
Shares of the 64 companies that compose the Ibovespa index are trading at roughly 11 times earnings, compared with a price/earnings ratio of about nine at the start of 2012.

Some investors point out that the poor performance of Brazil's main stock index masks healthy demand for exposure to specific sectors, namely retailing and financial services. Even with slow growth, Brazil's unemployment rate is near a record low and salaries have surged in past months.
The following three charts shows some of the positive factors of the Brazilian economy:
Click to enlarge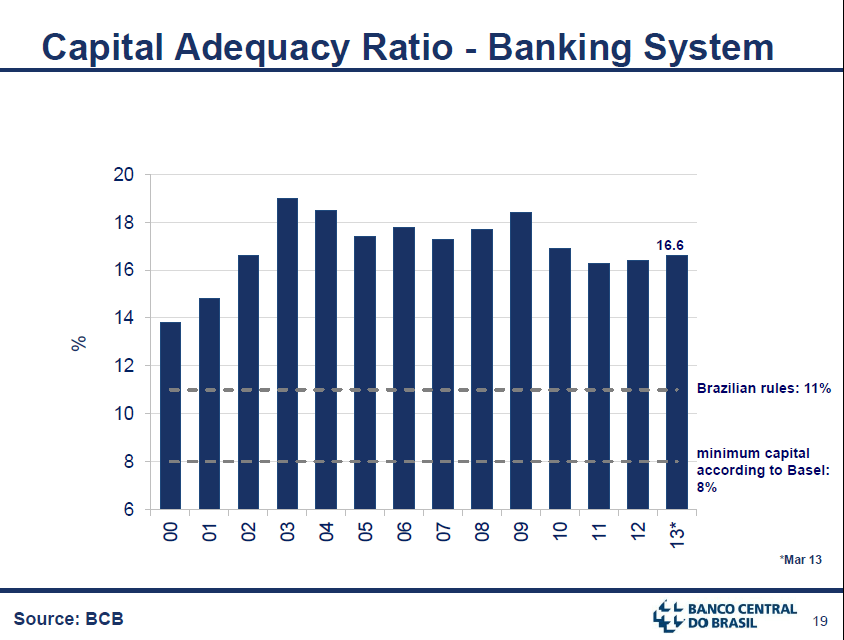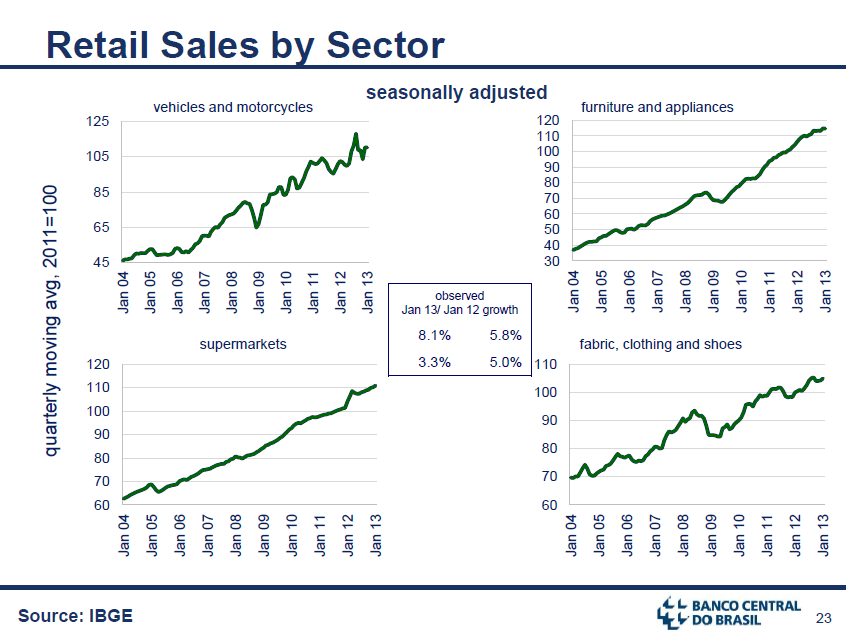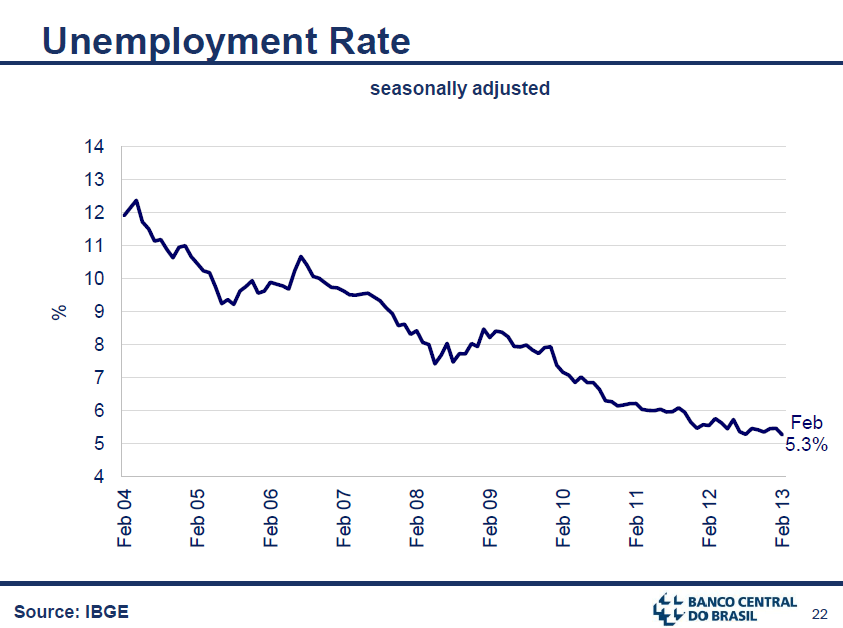 Source: Economic Chart Pack, April 2013, Banco Central Do Brasil.
In short, a strong case be made for Brazil based on the factors such as the three shown above. The manufacturing sector of the economy recently had the highest ever domestic auto production showing the demand for local sales and rising exports.
Ten Brazilian companies trading on the US markets are listed below for consideration:
1.Company: Itau Unibanco Holding SA (ITUB)
Current Dividend Yield: 3.29%
Sector: Banking
2.Company: SABESP (SBS)
Current Dividend Yield:  2.27%
Sector: Water Utilities
3.Company: Banco Bradesco SA (BBD)
Current Dividend Yield: 3.04%
Sector: Banking
4.Company: Ultrapar Participacoes SA (UGP)
Current Dividend Yield:  2.18%
Sector: Oil, Gas & Consumable Fuels
5.Company: Embraer SA (ERJ)
Current Dividend Yield: 1.16%
Sector: Aerospace & Defense
6.Company: Braskem SA (BAK)
Current Dividend Yield: 3.35%
Sector: Chemicals
7.Company: Light SA (LGSXY)
Current Dividend Yield: 14.48%
Sector: Electric Utilities
8.Company: Banco do Brasil SA (BDORY)
Current Dividend Yield: 6.66%
Sector: Banking
9.Company: Companhia Energetica de Minas Gerais Cemig (CIG)
Current Dividend Yield: 11.40%
Sector: Electric Utilities
10.Company: Cielo SA (CIOXY)
Current Dividend Yield: 3.61%
Sector: IT Services
Note: Dividend yields noted are as of May 8, 2013. Data is known to be accurate from sources used.Please use your own due diligence before making any investment decisions.
Disclosure: Long ITUB, BBD