The latest Fed Stress Tests of US banks indicate that 17 of the largest 18 banks could withstand a deep recession and maintain enough capital above the minimums required. Ally Financial(ALLY), the car lending company that used to part of GM is the only odd man out in the Fed's tests. The final results will be made public on March 14th together with the Fed's decision on banks' request to increase dividends or share buybacks.
From a Bloomberg article today:
U.S. banks have grown stronger since the crisis. The Fed said in November the largest banking groups had nearly doubled their Tier 1 common capital to $803 billion in the second quarter of last year from $420 billion in the first quarter of 2009.

The KBW Bank Index (KBX), which tracks shares of 24 large U.S. banks such as JPMorgan,State Street Corp. (STT) and Capital One, has risen 9.7 percent this year, compared with the 8.3 percent gain of the Standard & Poor's 500 Index.

The Fed for the test gave banks 26 variables — ranging from interest rates to stock and home-price indexes — and showed how they would change over time. The Fed also gave banks an adverse scenario with rising interest rates and a baseline scenario, and didn't disclose the results for these.
The KBW Bank Index (BKX) is leading the S&P 500 year-to-date as noted above. However the KBW Regional Bank Index (KRE) is over 11% compared to KBW Bank Index' return of over 9% as shown in the ETF charts for these indices below:
Click to enlarge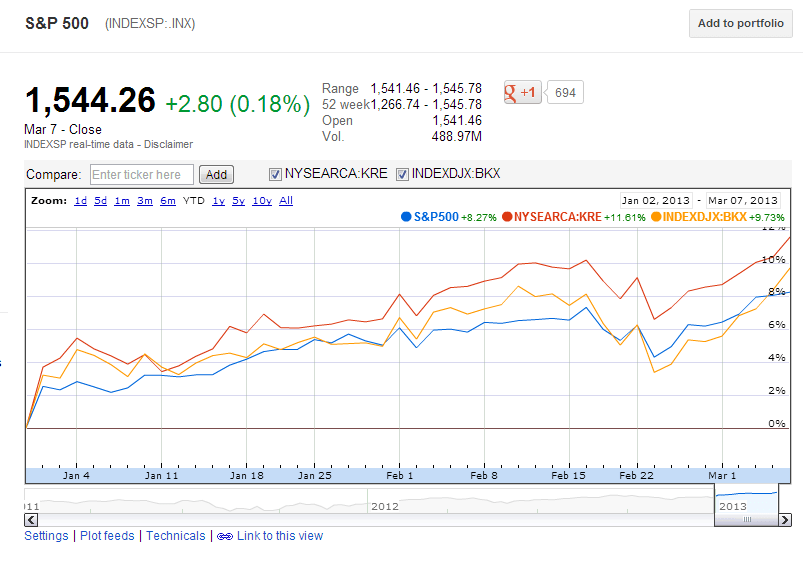 Source: Google Finance
The KBW Regional Bank Index (KRE) is composed of about regional banks such as Bank of Hawaii(BOH), Susquehanna Bancshares (SUSQ), First Horizon National Corp (FHN), etc.
In the 5-years both the bank indices have lagged the performance of the S&P 500 due to the big crash in banking shares during the financial crisis. While the S&P is up about 20% the regional bank index and the bank index are down about 10% and 27% respectively. Here again the regionals have performed better than the large banks.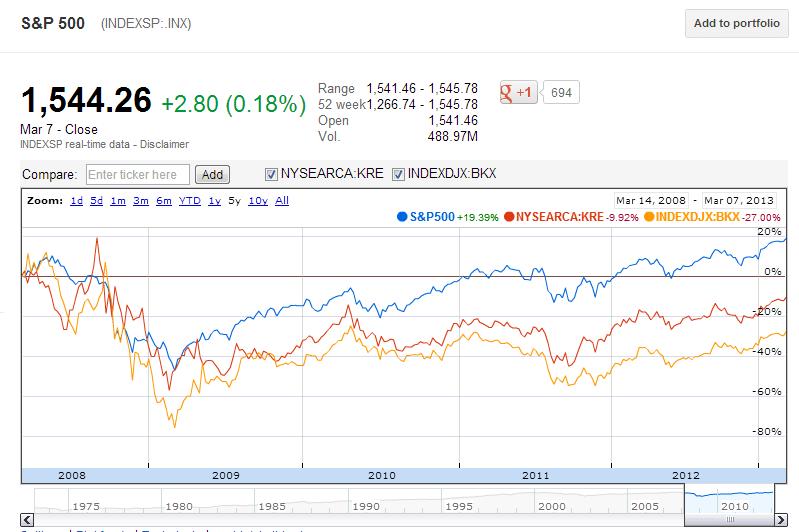 Related ETFs:
Disclosure: No Positions