The following chart shows the major sources of power generation in the U.S. in 2011:
Click to enlarge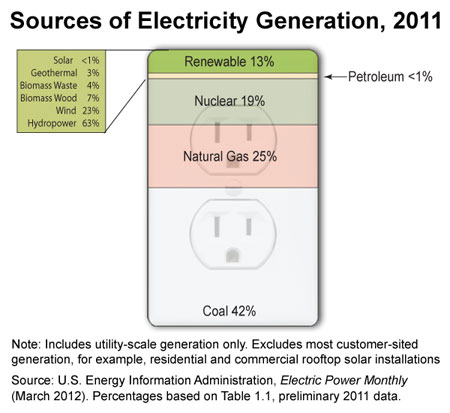 Source: Energy in Brief, U.S. Energy Information Administration
Coal is the major source for power production followed by Natural gas at about 25%. Nuclear power accounted for about 19% which is lower than countries such France that depend on nuclear power for most of its electricity needs. Renewable sources which includes hydro power accounted for about 13% of the total power production. This is interesting since one would expect U.S. to produce more power from hydro as there is abundance of water resources in the country. Here again, countries like Canada and Brazil produce a higher percentage of their electricity from hydro power. Much of the hydro power produced in the U.S. comes from dams which were built before the mid-1970s and operated by Federal agencies. So it appears no new hydro power plants have been built in the past 40+ years.  However on a positive note, power production from wind increased from about 6 billion kilowatthours in 2000 to about 120 billion kilowatthours in 2011 according to EIA data.
Five electric utilities yielding more than 3% dividends are listed below for further research:
1.Company: Dominion Resources Inc (D)
Current Dividend Yield: 3.99%
2.Company: Duke Energy Corp (DUK)
Current Dividend Yield: 4.41%
3.Company: Southern Energy (SO)
Current Dividend Yield: 4.38%
4.Company: NextEra Energy Inc (NEE)
Current Dividend Yield: 3.63%
5.Company: Exelon Inc (EXC)
Current Dividend Yield: 6.89%
Note: Dividend yields noted are as of Feb 22, 2013
Disclosure: No Positions